In the digital marketing world, there are two huge marketing endeavors:
Pay-per-click marketing and search engine optimization.
Which do you focus on?
These related (yet obviously different) marketing segments often butt heads.
We've all seen this happen before with articles that claim that PPC is better than SEO. Or, you've probably read posts that try to say that PPC is worthless and SEO will forever be the best marketing tactic for new traffic.
And, of course, there's the infamous article that you've probably read from 100 different sites:
SEO vs. PPC: Which Is Best?
But here's the truth:
Both are incredible ways to produce results for your business. They simply go about achieving results in different ways.
And depending on your business, one might be better than the other.
But it's far from universal.
And this virtual battle of marketing tactics is pointless.
In fact, SEOs can learn tons of valuable lessons from PPCs, and vice versa.
In this post, I'll share with you five different tips that SEOs can learn from PPC managers and how to actionably implement these in your SEO gameplan.
1. Data-informed strategies always win
When it comes to analyzing the success of SEO and PPC with data, SEOs have it worse.
PPC has a very direct and specific goal: close the deal. That's the case unless you are running PPC campaigns for brand awareness, but that's a different story.
Generally speaking, PPC is great for driving sales and skipping the traditional funnel.
But with SEO, you need to "warm up" visitors to help them become brand aware and interested before they make a purchase.
That means that there's a lot less room for data analysis, and understanding the process of your prospects takes tons of effort in comparison to PPC.
You have to analyze their on-site behavior, their receptiveness to lead magnets and emails, their time on site, and how they interacted.
But with PPC, you can simply see if they converted or not and fire up a quick remarketing campaign to bring them back.
Unfortunately, it's not that easy with SEO. It's harder to focus on specific factors that are impacting your sales.
In PPC, on the other hand, you directly know what you need to focus on: the bottom line.
And to tell you the truth, that's all that matters in SEO, too.
One of my favorite examples of using data to produce big wins in PPC is a case study from IntuitSolutions. This multi-year project with a client led to a PPC conversion rate increase of 60%.

How did they do it?
They didn't follow new trends or produce content for the sake of producing content like us SEOs can sometimes do. Instead, they made data a priority.
In the first few stages of the campaign setup, they made data their focal point by using Google Analytics call reports and goal/event tracking:
Next, they starting testing the waters with AdWords and seeing what the data said. For instance, how did traffic and conversions impact their bottom line? What could they do to decrease costs?
A big difference here between PPCs and SEOs is that SEO often focuses on bringing in more traffic. But what does your data tell you? Is your conversion rate low?
Maybe you don't need more traffic. Perhaps you need to focus on increasing conversions from your existing traffic instead.
And that's exactly what IntuitSolutions did. They decided to "Reduce wasted spend to drive better – not more – traffic."
Doing so resulted in huge increases in everything from organic to direct traffic: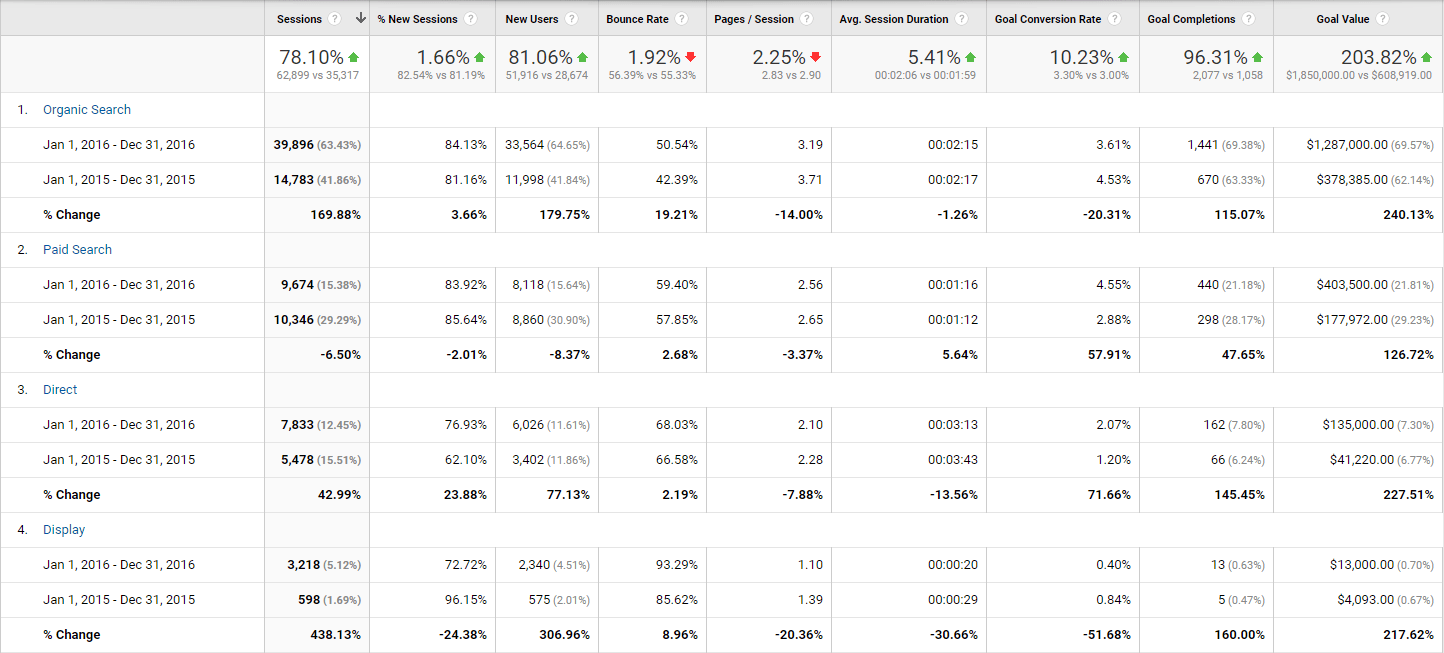 You might notice a slight drop in paid search traffic, but that's exactly what they wanted.
PPC isn't about generating the most traffic for sales. It's about converting as many as possible and letting the data tell you when to spend more.
While decreasing their traffic by nearly 7%, they increased conversions by 60%.
The data showed that low-quality scores were harming their conversion rates.
Subsequently, they improved them by creating better landing pages, forming better ad groups, and reducing wasted spend.
The data was the only reason they made changes, and they always focused on their bottom line.
It's easy for SEOs to get caught up in producing more traffic. Trust me — I'm guilty of this every single day.
Instead, listen to the wisdom of PPC managers. They ask, "How can you increase conversions from existing traffic?"
Before running your next campaign, analyze your data to inform your next ten steps. Do you need to increase your conversion rates?
If you do, that might not mean creating more content. It might require you to look for ways to improve your current content or develop new lead magnets instead.
Even though content is the lifeblood of SEO, producing more without a data-based approach won't move the needle.
2. Never go on autopilot. Always adjust and improve
You've just launched a new campaign.
It's only been a few months, and things are going smoothly. Leads are flowing in, and your content is driving tons of engagement on social media.
So now, you can sit back, relax, and enjoy the ride, right?
Absolutely not.
When it comes to SEO and content marketing, it's easy to get complacent.
You think that your current wave of leads, traffic, and engagement will stick around for the long haul. You want to keep repeating the same strategy over and over.
You tell yourself, "Just keep blogging and producing more content."
But unfortunately, it doesn't work like that.
And PPC managers know this more than anyone.
Why do you think PPC managers run so many different ad groups?
It's because they're always adjusting. They are always moving, improving, and learning from every single campaign.
Their strategies never get stale because they don't repeat the same process over and over.
Sure, they absolutely double down on their big wins. But they don't ride them out until there's nothing left.
They simply keep digging for more strategies and new tactics to pursue.
A prime example of this is when PPC managers utilize the search terms report on Google AdWords.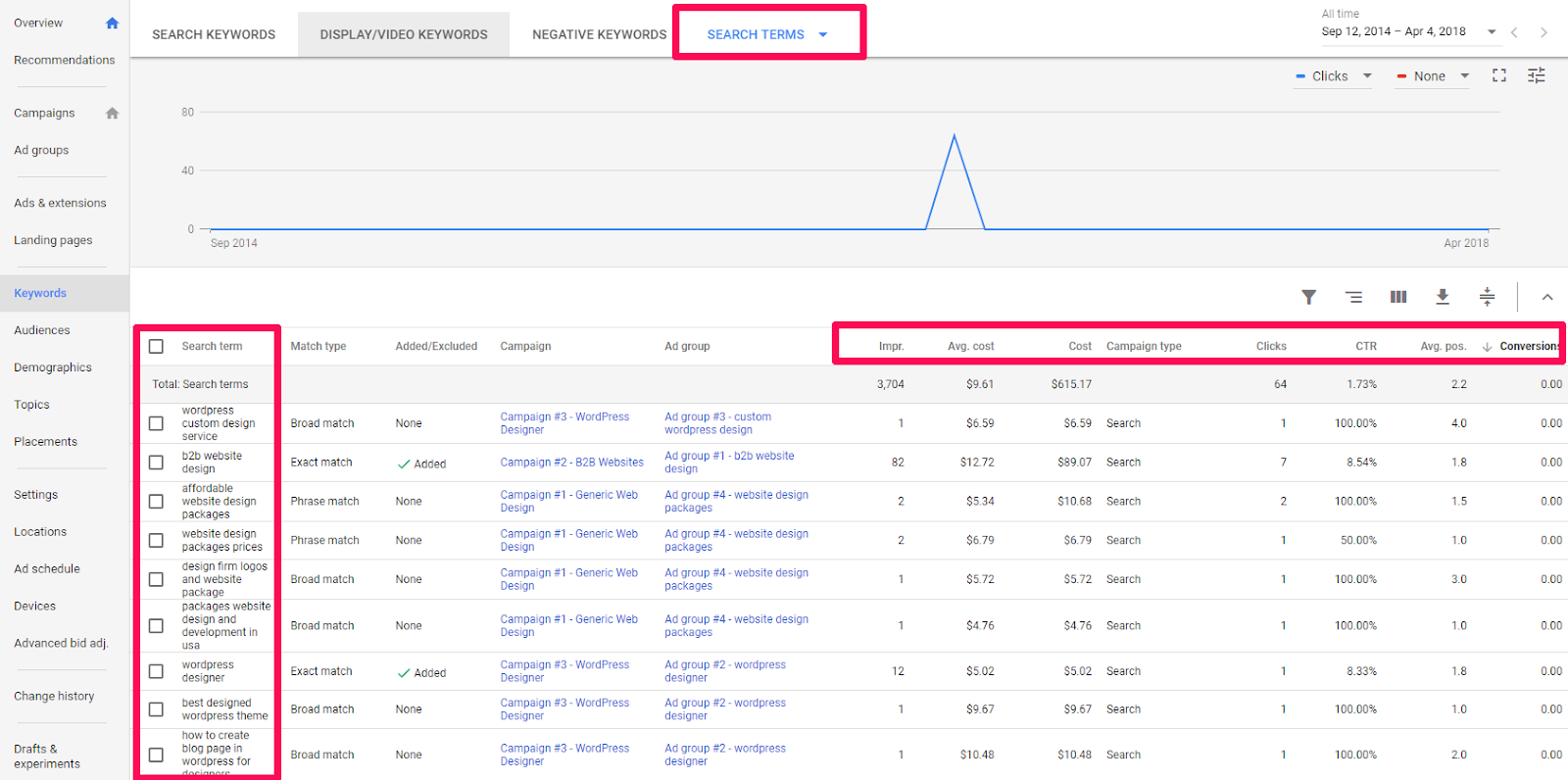 Believe it or not, on AdWords, you aren't paying for specific keywords.
For example, the latest keyword that you research and bid on isn't exactly what you're buying with each click.
You could be bidding on this: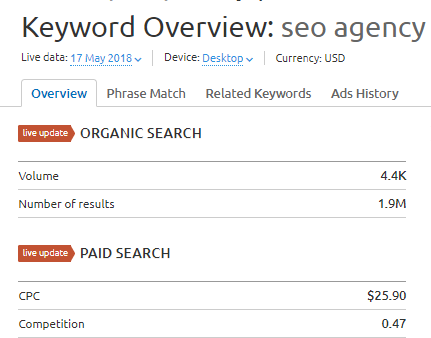 But in reality, you're paying for these:

These are search terms. They're related, real keyword searches that differ by match types.
Just bidding on "seo agency" doesn't mean you only show up for "seo agency."
And that's where SEOs can learn from PPC managers. Good PPC managers find the low-hanging fruit and avoid slipping into autopilot.
To avoid getting comfortable, they utilize the search terms report to uncover new ideas for more campaigns.
By looking at the search terms report, they analyze easy wins by finding searches they are showing up for and creating entirely new campaigns around them.

They get specific and dive deep into each one to create individual landing pages and experiences.
Here's the key takeaway: Always look for new, fresh ideas in your SEO strategy.
Don't just sit back and blog about your strengths. Find new topics that your customer base is interested in. Don't get complacent and always look for new mediums to test.
You can do just that by using a tool like Google Trends or BuzzSumo.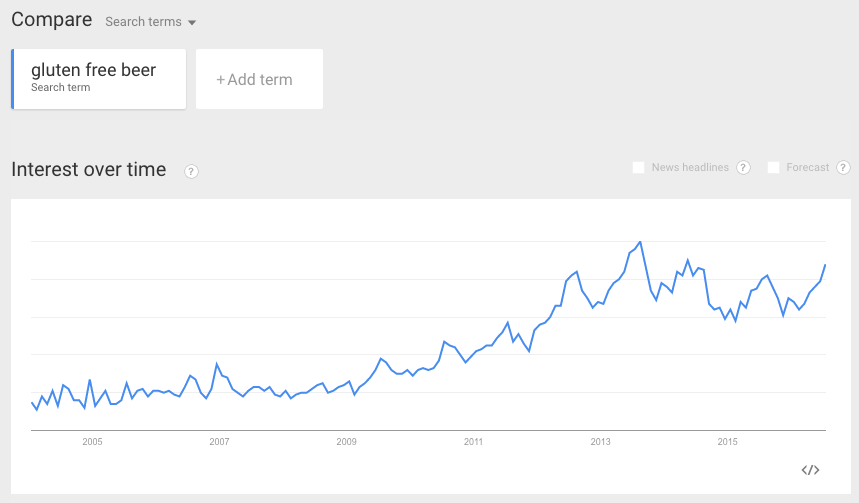 If you're only blogging, research different formats like video, podcasts, or slideshows.
Look for new ways to create engaging campaigns instead of running the same ones over and over again.
3. Learn the art of writing compelling and click-worthy metadata
If you've ever used Google AdWords or written a text-based PPC ad before, you know the struggle.
Cramming all of your important, value-driven data into a limited character space is brutally tough.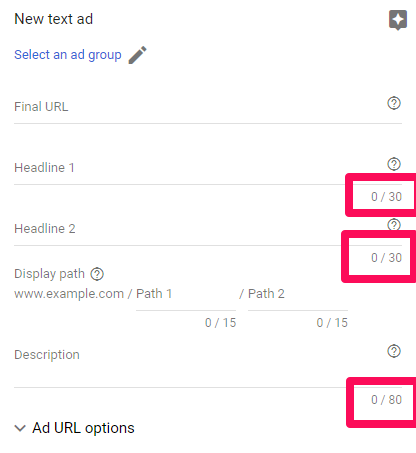 You get 30 characters for the first headline, 30 more for the second, and only 80 for your description.
That's a grand total of 140 characters, which used to be the limit for a single tweet on Twitter: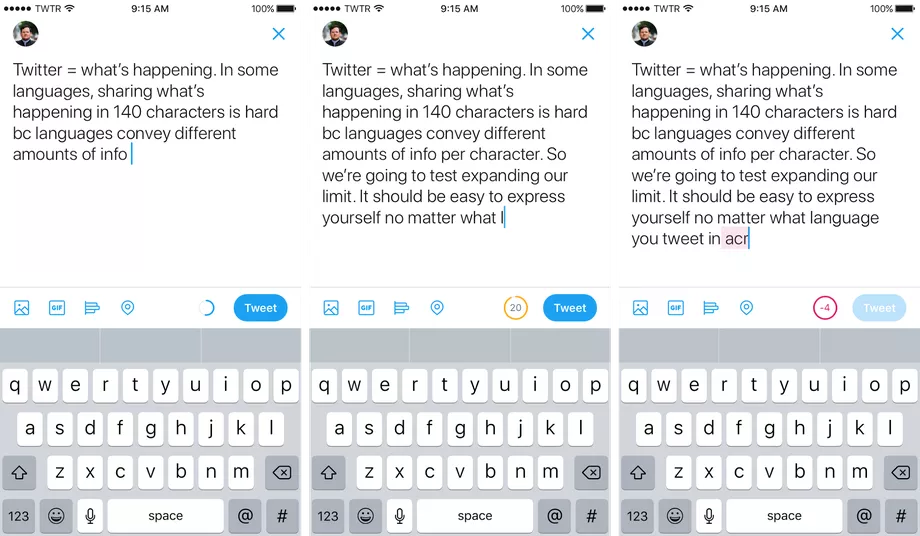 And we all know how frustrating that was. 140 characters were never enough to convey real value that drove customers to take action.
Writing meta descriptions and titles is just like writing new ads on AdWords:
Your entire goal is to convey more value to the searcher to improve your CTR and subsequently your rankings.
And since SEOs don't do this very often, we can learn a ton from PPC managers who write multiple ads per ad group and keep writing new ones on a daily basis.
They know what formulas, strategies, and quick value lines work to produce better click-through rates on non-branded searches.
One of my favorite, simple strategies comes from PPC expert Johnathan Dane of KlientBoost. He grew his PPC agency from $0 in revenue to over $1 million in just 12 months: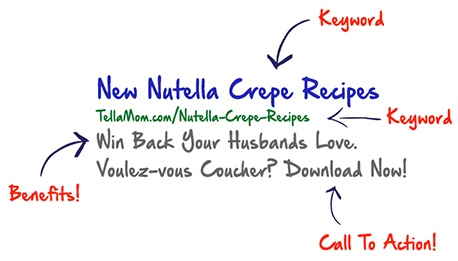 This easy-to-follow strategy has led him to find massive success with clients. By following a structure, you consistently repeat the keywords for customers to reassure them that they're finding what they searched for.
Adding benefits and a CTA helps push them over the edge to click on your ad over the competition.
It's simple enough to replicate for every single new page you publish, but it's detailed enough to capture interest with specificity and keywords.
When writing your next meta title and description to accompany your latest content marketing piece, follow this simple yet effective strategy for improving your organic CTR: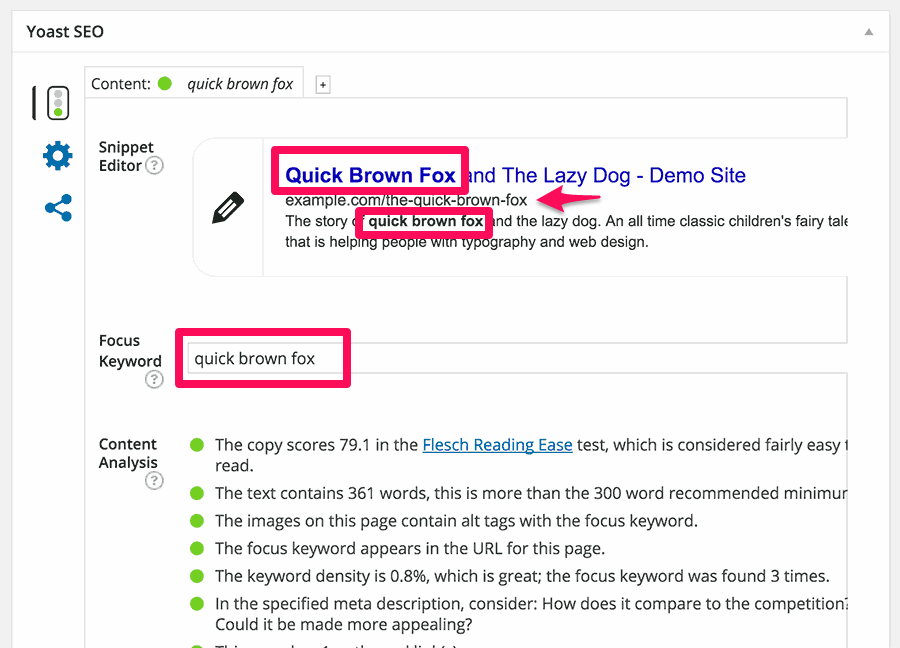 Focus on the basics: talk directly to what the user is searching for. Let them know that they are getting exactly what they expect to get based on their search.
In the example above, notice that the focus keyword of the post immediately appears in the title, description, and URL string.
Next, it describes the benefits for the searcher to see:

Getting ideas for your meta descriptions is easy when you look at how amazing many PPC ads are.
Simply Google a keyword that your page or latest blog post covers.
For example, I was recently writing a post about content marketing tips in 2018. But I was struggling to make a compelling meta title and description.
So I wandered over to Google and typed in my long-tail keyword to get some ideas:

And immediately one specific AdWords ad jumped out at me with a brilliant idea:

This ad flips the script and drives massive appeal in an otherwise boring conglomerate of headlines using listicle formats.
Reasons why it's not working.
It's simply different than the rest and gives you a better angle/approach to writing your post and your meta description.
Instead of touting XX tips, you can tout XX reasons why it's not working and how you can fix them for your 2018 content marketing strategy.
PPC ad writers have a unique skill of driving tons of interest in very few characters.
Next time you go to write a meta and title, follow the formula from Johnathan or conduct a few Google searches to find inspiration.
You won't regret it.
4. Dedicated landing pages drive more conversions
As a diverse marketer, I use both SEO and PPC to my advantage.
I produce tons of content marketing pieces on my blog: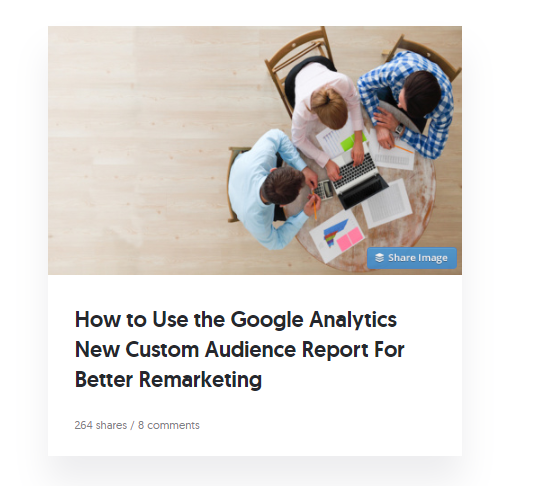 On my podcast:
And more.
I use tons of different content marketing mediums to drive traffic.
When it comes to PPC, I am always testing and iterating new ideas. And even when I am not using PPC ads, I am learning from colleagues who are killing the PPC game.
But one specific tactic that I have seen in PPC that works better than any other is dedicated landing pages.
In fact, New Balance Shoes was able to increase sales by 200% when implementing dedicated landing pages.
It's something that is seen only rarely in most SEO and content marketing campaigns I've worked on.
Usually, people are simply directed to a blog post and funneled into a form on the blog post in the form of a CTA. I'm guilty of it too: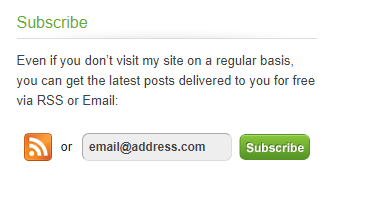 Most of us are. We try to turn that inbound organic traffic into subscribers with a few simple calls to action.
And it works some of the time.
But it could be a lot better.
And that's where dedicated landing pages come into play.
They are necessary when using PPC for traffic and leads because they help to create specificity and a great user experience, leading to better quality scores.
Landing page experience is a huge piece of the quality score:
You can see this common tactic used by testing a simple search on your own.
For instance, when searching for social marketing tools, I clicked on one of the first ads from Falcon.io, showing me a landing page that was clearly created for this campaign:
It's a dedicated landing page that even highlights the keyword I was searching for, which lets me know that I got exactly what I wanted to find with their products.
Now that's specificity. And specificity is king.
When conducting your next content marketing campaign for organic traffic, try driving traffic to dedicated landing pages with your calls to action.
For example, if you want people to sign up for a webinar, don't just provide a form.
Send them to a personalized, specific landing page you create just for that sole purpose of webinar signups: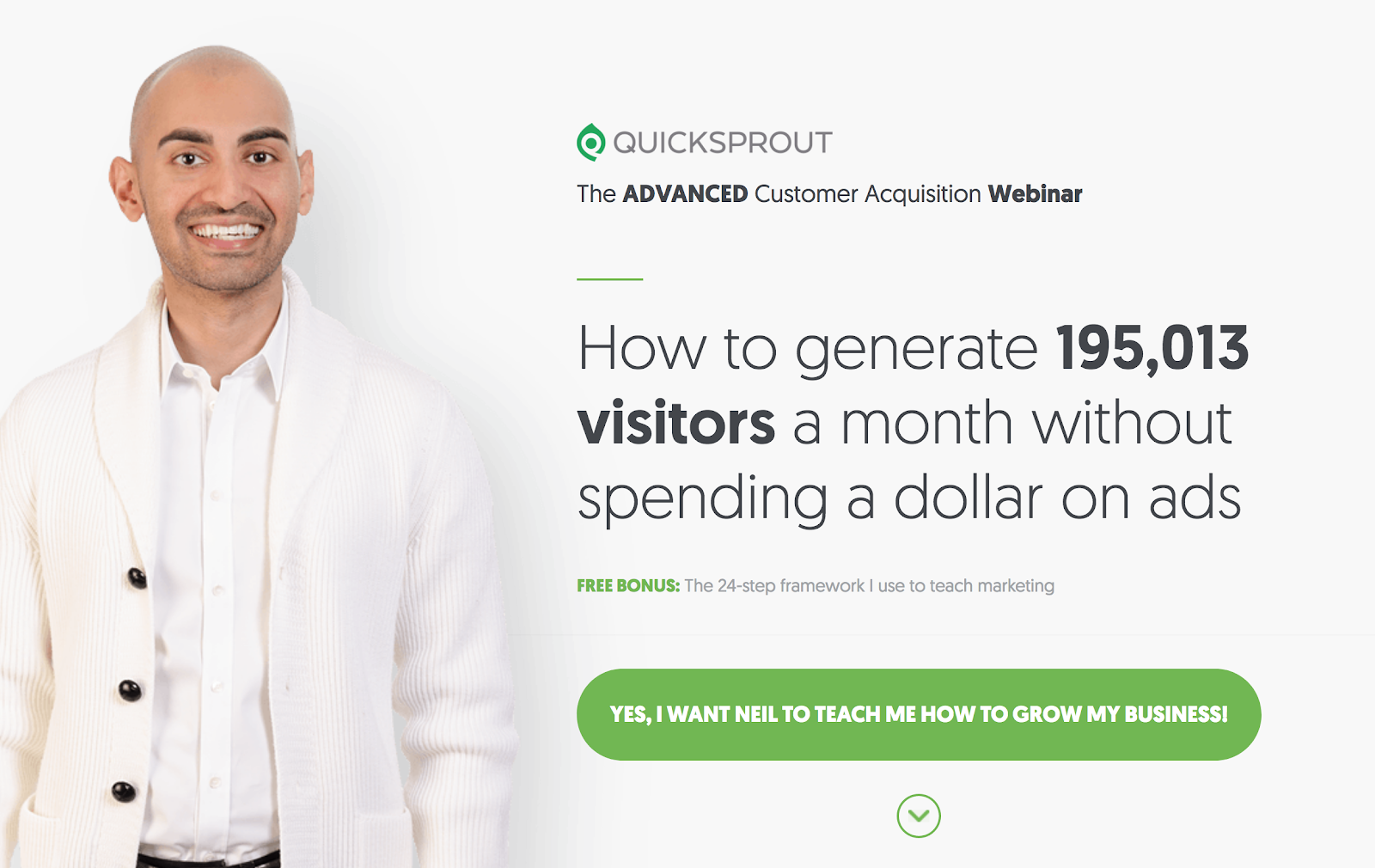 Create better experiences for your new organic traffic that will keep them around and coming back for more.
PPC managers know how to create dedicated landing pages. Simply driving homepage traffic doesn't cut it, even in SEO.
Every keyword search is different and packs different forms of intent. Ensure that your landing pages meet those needs each time and never settle for generic pages.
It also helps to segment landing pages by keyword intent. Depending on each stage of the funnel that a searcher is in, the landing page can be vastly different even when discussing the same product:
Top-of-the-funnel or new traffic that hasn't visited your site before is not likely to convert on a high-risk item yet.
They won't buy your full product or service, but they might sign up for an email list or your webinar.
So you can tailor your landing pages to that specific intent.
If your content is lower in the funnel and talks about buying products or services, your CTA landing pages should focus on driving home a final sale or speaking directly with a closing sales rep.
The critical thing that SEOs can learn from PPCs for landing pages is specificity. Create dedicated pages and watch your conversions skyrocket.
5. Test more than you are comfortable with
Depending on the platform you use for PPC, testing is easy. You can flip the proverbial switch and test multiple ads in just seconds.
For example, on Facebook, you can split test your ads by checking off a box: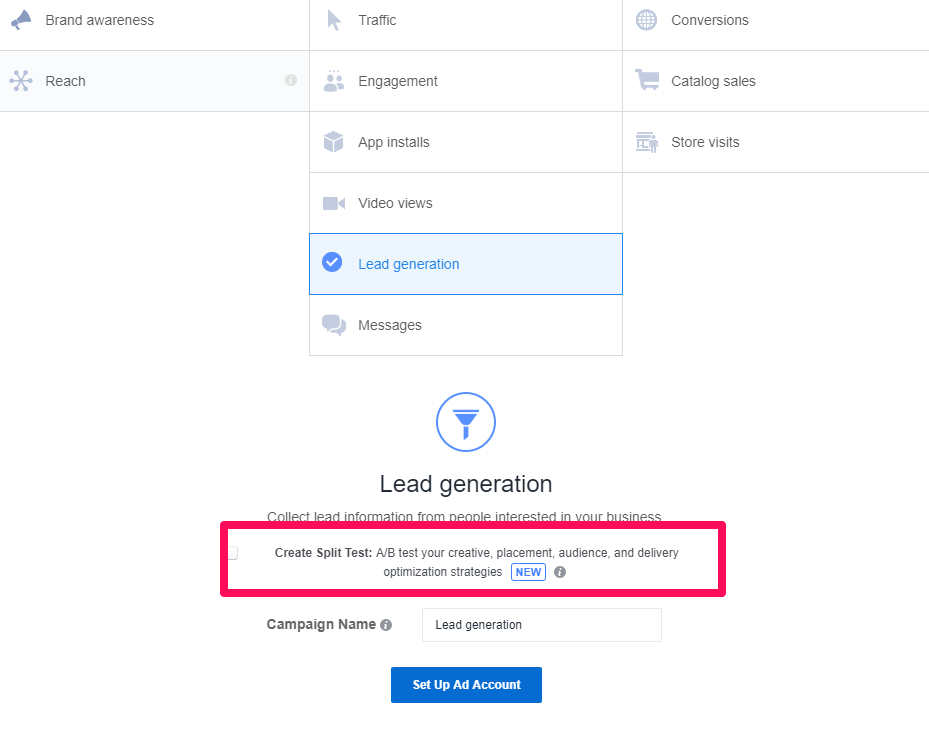 And on AdWords, you simply create multiple ads per ad group and run them evenly to see which performs best: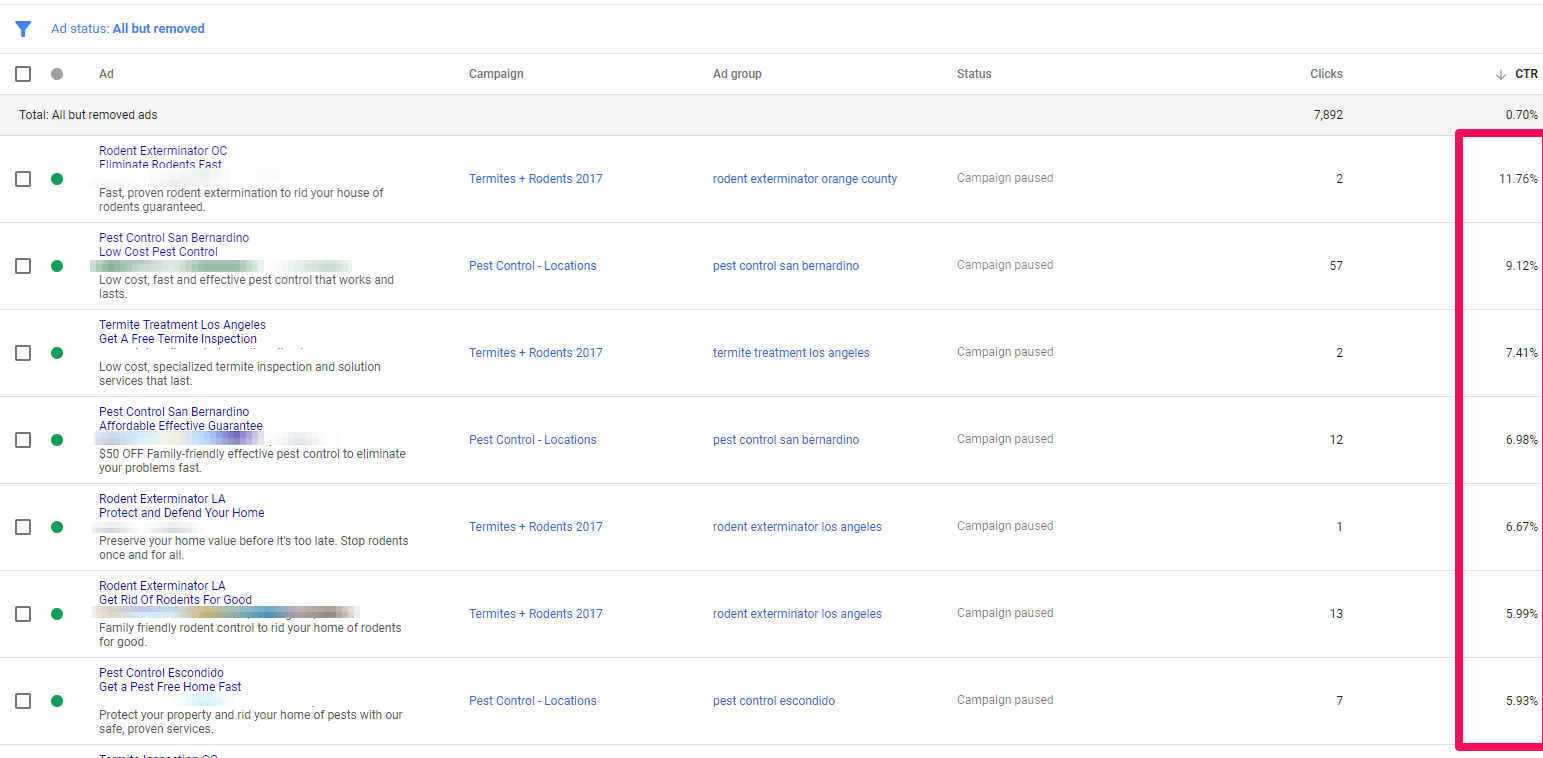 In fact, Google actually recommends this, stating that "every ad group should have at least three quality ads. That way, the system can optimize your performance, and you can check your performance data to learn what message resonates best with your audience."
Essentially, it's built-in A/B testing.
Testing is popular in PPC but often isn't in content marketing circles.
Personally, I get hesitant to test and edit old blog posts for fear of messing up their rankings and losing traffic. Or fear of trying to fix something that isn't broken.
Plus, A/B testing off platforms and on your own site often takes expensive outside tools or third-party services to run them for you.
But testing really does work and PPC managers are the best at it because real dollars and their bottom line are directly at stake with every single test.
One of the easiest things to start testing that PPC managers test daily is their marketing copy.
Writing multiple ads per day to test different value propositions that can inform their next campaign.
Instead of changing your value proposition for a product or service, test multiple to find which resonates best.
A great tool that I like to use for this headline and value proposition testing is the Thrive Themes Headline Optimizer plugin:
With the headline optimizer, you can test variations on your content and show multiple headlines to different audiences.
During the test, the optimizer will compile the data for you directly on the page itself, allowing you to analyze engagement and headline success or failure:

Using the three specific factors of CTR, time-on-site, and scroll-depth, the optimizer will determine which headline sparks the most interest.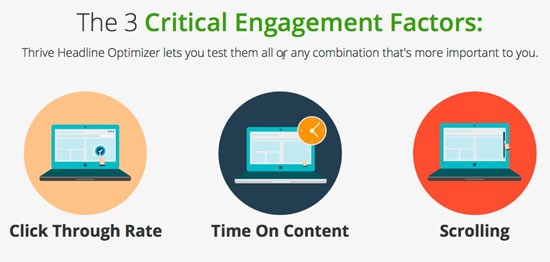 These are the types of tests that PPC managers run daily and can easily be done by SEOs, but often are ignored due to fear of losing rankings or messing with content.
You can even start your own AdWords campaign with just a few dollars a day and test different ads.
If they work, double down on their success and implement the copy back into your content marketing pieces.
The options are endless for testing. Don't be scared to test. If it fails, you've learned what doesn't work and can avoid it in the future.
Conclusion
Digital/online marketing is a diverse mix of different tactics.
Two of the most infamous ones are PPC and SEO, but they often butt heads. They clash, producing big comparisons on which one is better and which is worse.
But that couldn't be farther from the truth.
Both excel in their own respects, and each group can learn tons of valuable lessons from the other.
When it comes to SEOs, you can learn a boatload of tips from PPC managers.
For instance, data-informed strategies always win. Naturally, PPC managers are swimming in metrics, and they only make changes or iterations based on data.
They don't go on autopilot or assume that their strategy will continue to work. They actively search for new campaign ideas daily.
When it comes to copywriting for improving your CTR, there is no better to teach you than an active PPC manager who creates dozens of new ads every single day. They've truly mastered the fine art of compelling copy with small character limits.
To match that, start using dedicated landing pages for your campaigns. Don't rely on your homepage or just a blog post to get the job done.
Lastly, test more than you feel comfortable testing.
Both PPCs and SEOs can learn from each other. Implement these tips in your SEO strategy moving forward for even more success.
What are some critical lessons you have learned from different marketing specialties/subsets?
The post 5 Marketing Tips That SEOs Can Learn From PPC Managers appeared first on Neil Patel.
Read more: neilpatel.com
Despite content marketing's golden child status, SEO remains one of the most important factors in ranking websites on Google.
According to a Hubshout survey of small to midsize digital marketing agencies, 32% of agencies reported that SEO as a service generates the most revenue for them.
But as technology advances and search engines continue to evolve and adapt their algorithms, it can be difficult even for veteran SEOs to keep up.
This means you could be overlooking significant SEO value on your site.
In other words, if you're missing key SEO strategies, you could cost your business some serious revenue.
Not interested in flushing money down the toilet?
I didn't think so.
Implement these four SEO hacks to skyrocket your rankings and put money in the bank.
1. Increase page speed by compressing images
Images are one of the biggest culprits to slow loading times.
In fact, on average, images make up 68% of a web page's total weight.
But even though many people know that page speed is an important SEO ranking factor, when it comes to optimization, the image size is often overlooked.
One of the reasons for this is because if you are loading (and reloading) your website on your own computer or mobile device, the page has likely been cached.
A web cache temporarily stores the data on a web page to reduce server lag (aka page speed).
In other words, once a page has been loaded and cached, the server will provide the cached version to save time when you return later on to bring up the site.
While caching once a week is a good idea if you want to increase fetched response time, it can inadvertently give SEOs the impression that their website is loading faster than it actually is.
The problem?
If you aren't checking page speed from an outside computer or with a page loading measuring tool, you may not notice that your images are causing delays on the user's end.
And when 53% of people abandon a website that takes more than three seconds to load, that is a mistake you can't afford.
As you can see here, the probability of page abandonment increases 32% after only three seconds.
Three seconds!
Bottom line: If your images are slowing your loading time — even by a second — you could be frustrating users and increasing your bounce rate (two important SEO ranking factors).
Luckily, this is a simple fix.
To improve loading times and increase user satisfaction and retention rates, first, you'll need to evaluate your page speeds, then resize problem images.
Evaluate your page speeds
There are many free tools you can use to test your page speeds.
Google's PageSpeed Insights tool is great for not only measuring loading time for both mobile and desktop but also identifying the causes of any speed delays, including images.
If images are contributing to page lag, PageSpeed Insights will build a list of which images you need to optimize.
When optimizing your pages, it's important to take a special interest in making them mobile-friendly.
Since the rollout of Google's mobile-first index, websites that are mobile-friendly will rank higher than those that aren't optimized.
Based on this analysis, Target's landing page has an average speed of around 2.2s and good optimization at 88/100.
While this isn't a perfect score on PageSpeed Insights, it's pretty close. And, with minor tweaks to the images, they could see a spike in page speed.
GTMetrix is another page speed tool that will help you identify problem areas.
The tool will uncover each of the problems that your site has and recommend tips to help you fix each of them.
And it goes a bit more in-depth than PageSpeed Insights.
If you have any images causing slow loading times, they'll be listed here.
RankPay utilized GTmetrix page speed reports to reduce their bounce rate by 20% and increase their page speed by 20%.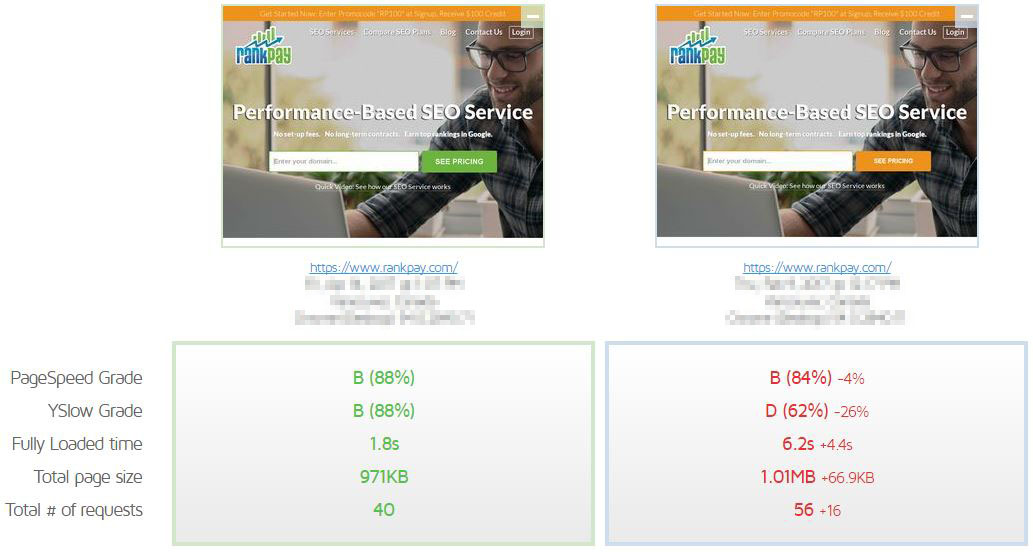 As you can see, it's worth the time and effort to analyze and fix your page speed issues. It will not only help you rank better in the SERPs, but also improve the UX experience.
Compress problem images
Once you've evaluated your page speed, the next step is to analyze what elements are bringing your page speed down.
And, large image sizes are usually a major culprit in slowing down websites.
Remember: smaller images = faster page speeds.
If you're using Photoshop, Lightroom, or a similar tool, you want to make sure your images are 1,500 pixels in width or less.
The key here is to balance image quality with file size.
The goal is to use the smallest file size possible while maintaining acceptable image quality.
There are several image file types to use, but the most common are JPG and PNG.
Below is an example of what a JPG looks like not compressed vs. compressed. The original, untouched image was 2.06MB.
Here this image has low compression. This preserves the quality of the image but also doesn't shrink the overall file size much.
A web page shouldn't be more than 1-2 MB in weight. While compressing the image did shrink it from the original size, 590 KB is still a significant portion of the page's optimal weight.
On the other hand, it's possible to do too much compression.
When the image is highly compressed, the size becomes much more manageable at 68KB.
But the quality stinks.
You want to strike a compression note that is just right.
In this case, the best level of compression on the image is somewhere in the middle. This allows us to maintain the quality while significantly reducing file size (and associated page speed).
If you're not a Photoshop guru (or don't want to shell out the cash for an Adobe Suite monthly subscription), I recommend using a compression tool like TinyPNG.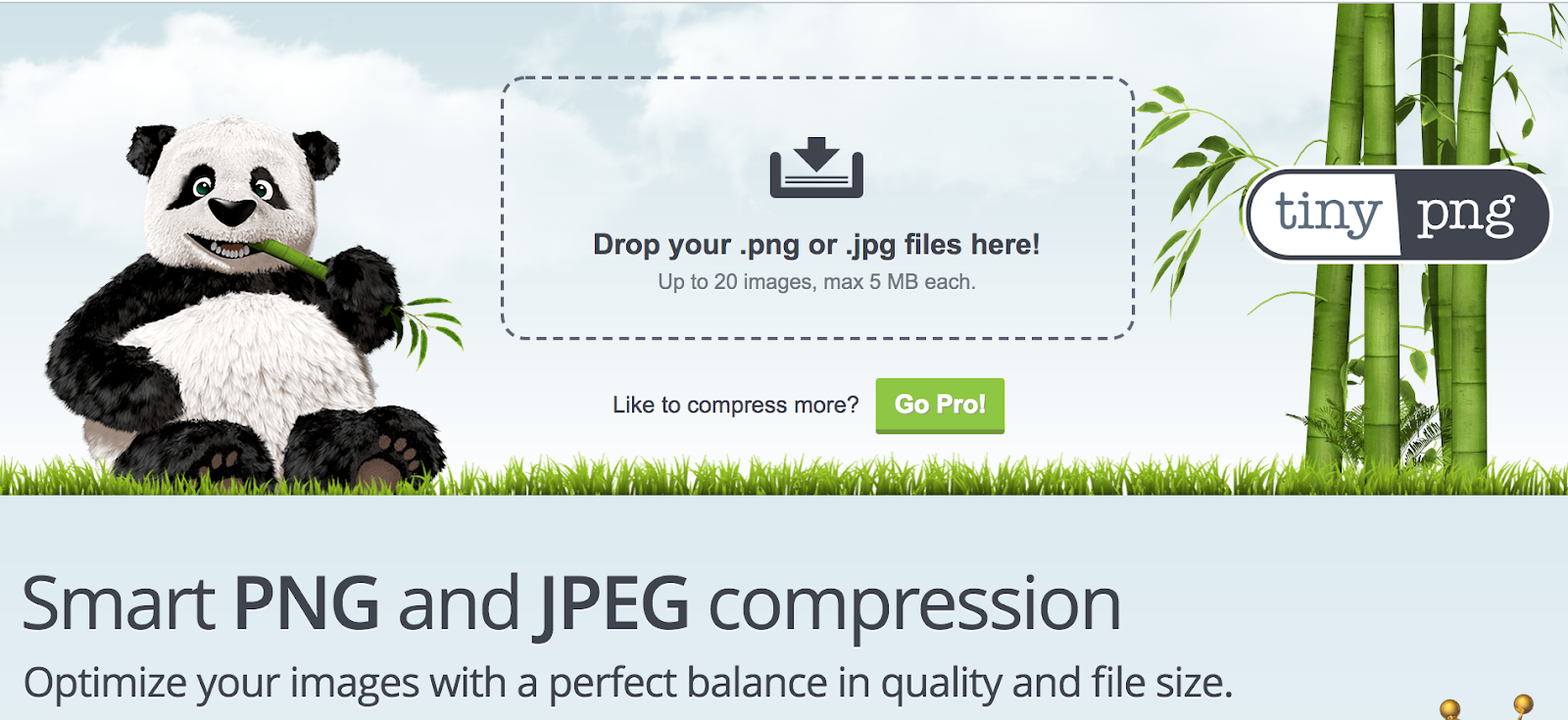 TinyPNG lets you resize up to 20 PNG or JPG images for free. Simply drag and drop your files onto their page and they'll do the work for you.
If you need more files, there is also a Pro upgrade starting at just $25 for a single-user yearly subscription.
And, they have a WordPress plugin.
2. Improve CTR with Google Search Console
Be honest.
When was the last time you reviewed your meta descriptions?
Or, attempted to clean up ugly URLs?
While CTR isn't a proven ranking factor, improving your organic CTR will help boost your organic rankings.
Back in 2009, the head of Google's webspam, Matt Cutts, answered questions related to CTR on YouTube:
"It doesn't really matter how often you show up. It matters how often you get clicked on and then how often you … convert those to whatever you really want (sales, purchases, subscriptions)… Do spend some time looking at your title, your URL, and your snippet that Google generates, and see if you can find ways to improve that and make it better for users because then they're more likely to click. You'll get more visitors, you'll get a better return on your investment."
Still want more proof?
A local auto parts company increased their click-through rate by 20% and got 30% more organic clicks.
Another B2B software company went from 35,000 organic visits per month to 225,000 organic visits per month by increasing their CTR.
Increasing CTRs means better rankings, more traffic, and increased brand awareness. To increase CTRs, use Google Search Console to guide your next steps.
Update underperforming pages
Before you can identify what pages you should update, you need to get a baseline CTR.
To find this, log in to Google Search Console > Status > Performance.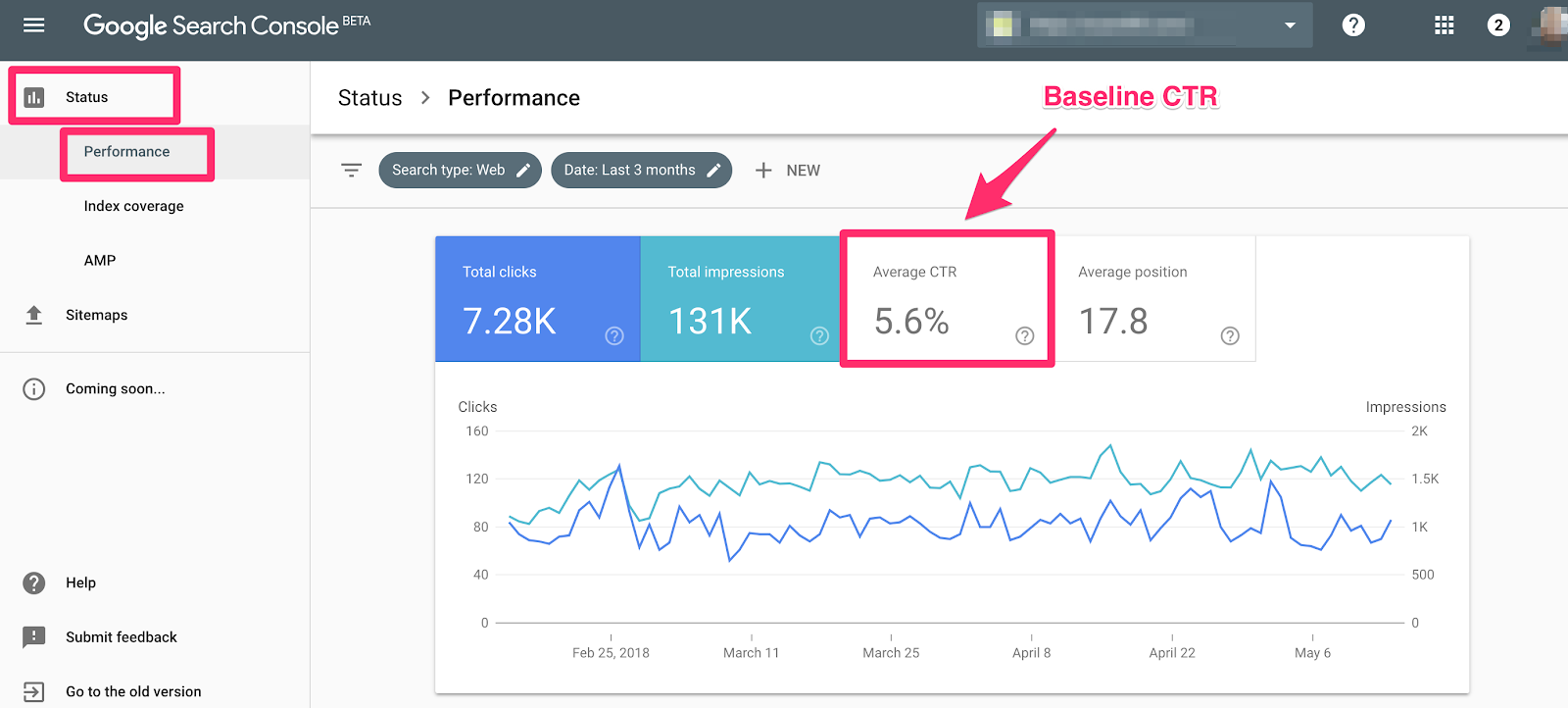 In the example above, the average CTR is 5.6%. Now that you have this average, you can begin to uncover what content needs to be updated.
Within the same report on Google Search Console, make sure Total Clicks, Total Impressions, and Average CTR are checked. Then, Pages at the bottom.
Here you should have a list of top performing pages.
To discover pages that need to be updated, click the arrow button to flip the CTR. You should have a list of your underperforming pages.
Next, scroll through your underperforming pages to find pages with high impressions and low clicks.
This will give you insight into what pages are showing up in the SERPs, but not receiving clicks.
Things like this tell me I need to review the keyword strategy, meta description, and overall content of this specific page.
This strategy works. Just look at how Siege Media took one client from zero to 100,000 visitors.

And, how Bill Hunt reworked Absolut's meta descriptions based on user intent to improve the CTR from 1.69% to 14.81% in just 45 days.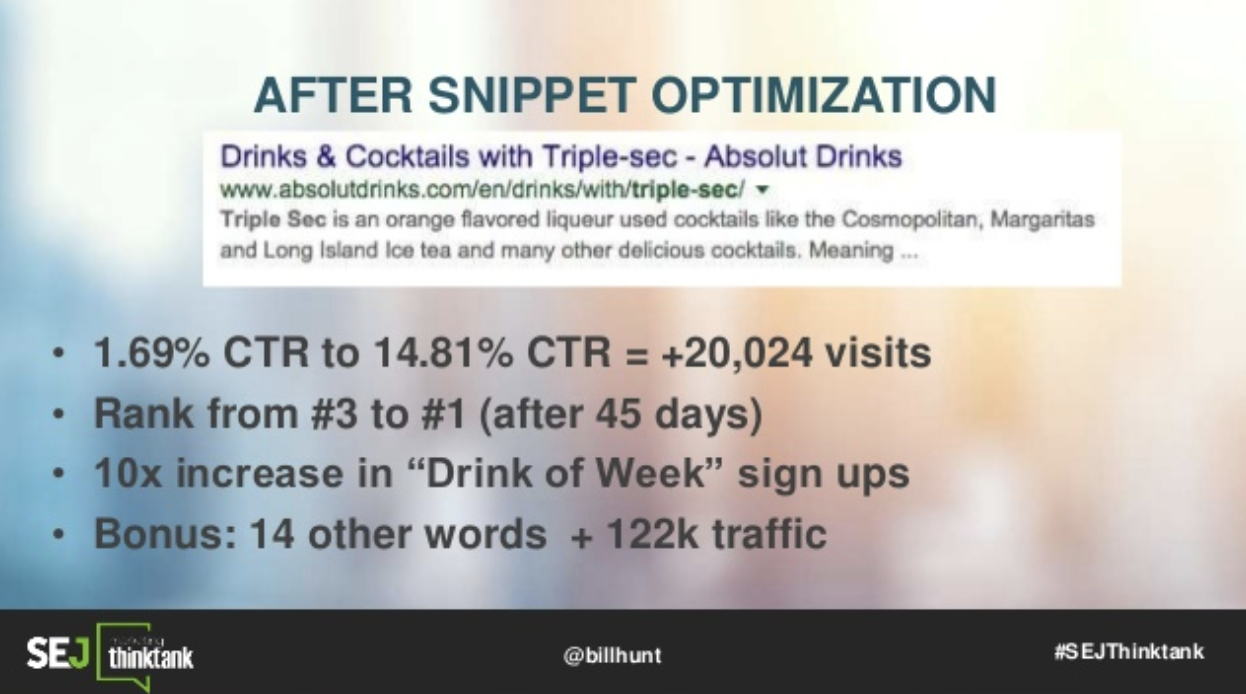 While this may seem like a lot of extra work to optimize pages you thought were already performing well, it will pay off in the end.
3. Use linkless mentions to build ranking value
Yes, you read that right.
Though it goes against traditional understanding of SEO, link building without links is becoming a key part of ranking strategy.
Gary Illyes, Google Webmaster Trends Analyst, said during his keynote at Brighton SEO:
"If you publish high-quality content that is highly cited on the Internet — and I'm not talking about just links, but also mentions on social networks and people talking about your branding, crap like that. Then you are doing great."
The idea is that brands that garner a lot of mentions, both in social media and on websites and long-form content, are trusted and therefore authoritative in search engines' eyes.
While this ranking strategy has flown under the radar a bit, both Google and Bing have indicated that linkless brand mentions factor into how the search engines measure authority and quality.
In fact, Duane Forrester, former senior product manager at Bing noted back in 2016 that Bing had already:
"figured out context and sentiment of tone, and how to associate mentions without a link. As the volume grows and trustworthiness of this mention is known, you'll get a bump in rankings…"
But Bing isn't the only one showing us their hand.
Google references linkless mentions as "implied links" in their patent:
And it makes sense.
For years, word-of-mouth marketing and social shares have made and broken brands.
It's no wonder that search engines are using this social capital as a key indicator of consumer trust and confidence.
How to track linkless mentions
If you're not already tracking brand mentions through a rep management campaign, you'll need to use a tool to monitor the web for you.
There are a variety of options, such as Awario or SEMrush.
Let's take a look at Awario.
Awario is a monitoring tool that lets you track the conversation around your brand (as well as competitors' brands) on the web in real-time.
To get started, create an account with your preferred email. (There's a two-week free trial before you select a paid plan).
Once you create your account, set up a campaign (or project) to monitor brand mentions.
Awario will ask you to input the keywords you wish to track.
For example, let's say you want to track Photoshop mentions.
So I'll enter "Adobe Photoshop" into the field.
Once you're done adding keywords to your campaign, Awario takes you to a dashboard that gives you an at-a-glance look at your current monitors.
As you can see here, Awario collects data on:
The number of total mentions for that keyword
Sentiment (i.e., whether the mentions are negative or positive)
The reach those mentions have
Who the top influencers are that have mentioned your keywords
Where mentions are coming from in the world
What languages are represented in the conversation
Additionally, you can filter the data to see mentions from specific platforms, such as Facebook, Twitter, or YouTube.

This information helps you track where your brand or product is trending as well as how well it stacks up against competitors.
Awario's Sentiment metric is a particularly useful datapoint to measure because it allows you to gauge the overall health of your brand's reputation (i.e., is it viewed more or less favorably).
In fact, at last year's State of Search event, Google's Gary Illyes noted that Google uses sentiment analysis to evaluate off-site sentiment to inform their rankings.
This means that tracking linkless brand mentions and their associated sentiment can give SEOs an advantage over marketers who fail to track implied links.
How to use linkless mentions to optimize search rankings
Once you have a brand monitoring tool in your arsenal, it's time to use the information you glean to direct campaigns that will build your online rankings and authority.
Fortunately, many of the strategies for linkless mentions will be the same as your traditional link building campaigns.
For example, let's say you're tracking your brand mentions and notice a recent negative review published on Yelp.
What can you do?
Well, when 68% of consumers will form an opinion about your local business after reading just 1-6 online reviews, you need to make every review (and response) count.
How you should respond depends on the review, but here are a few good rules of thumb from ReviewTrackers:
Resolve issues and provide solutions.
Reinforce the positive experiences the customer mentions.
Give a sincere apology as needed.
For instance, take this review from a disappointed customer flying JetBlue.
The TV screens were out in his row for the duration of the flight.
When he notified JetBlue via Twitter, JetBlue responded quickly to apologize and resolve the issue by offering a $15 credit to everyone in that row.
Keep in mind that responding to reviews and participating in conversations is not only a chance to say the right thing but to establish your brand's voice.
Even though you're communicating virtually, use these opportunities to show your brand's human side.
In other words, don't be a robot.
Whether you're replying to a negative or positive comment, be personable.
Take JetBlue's lead.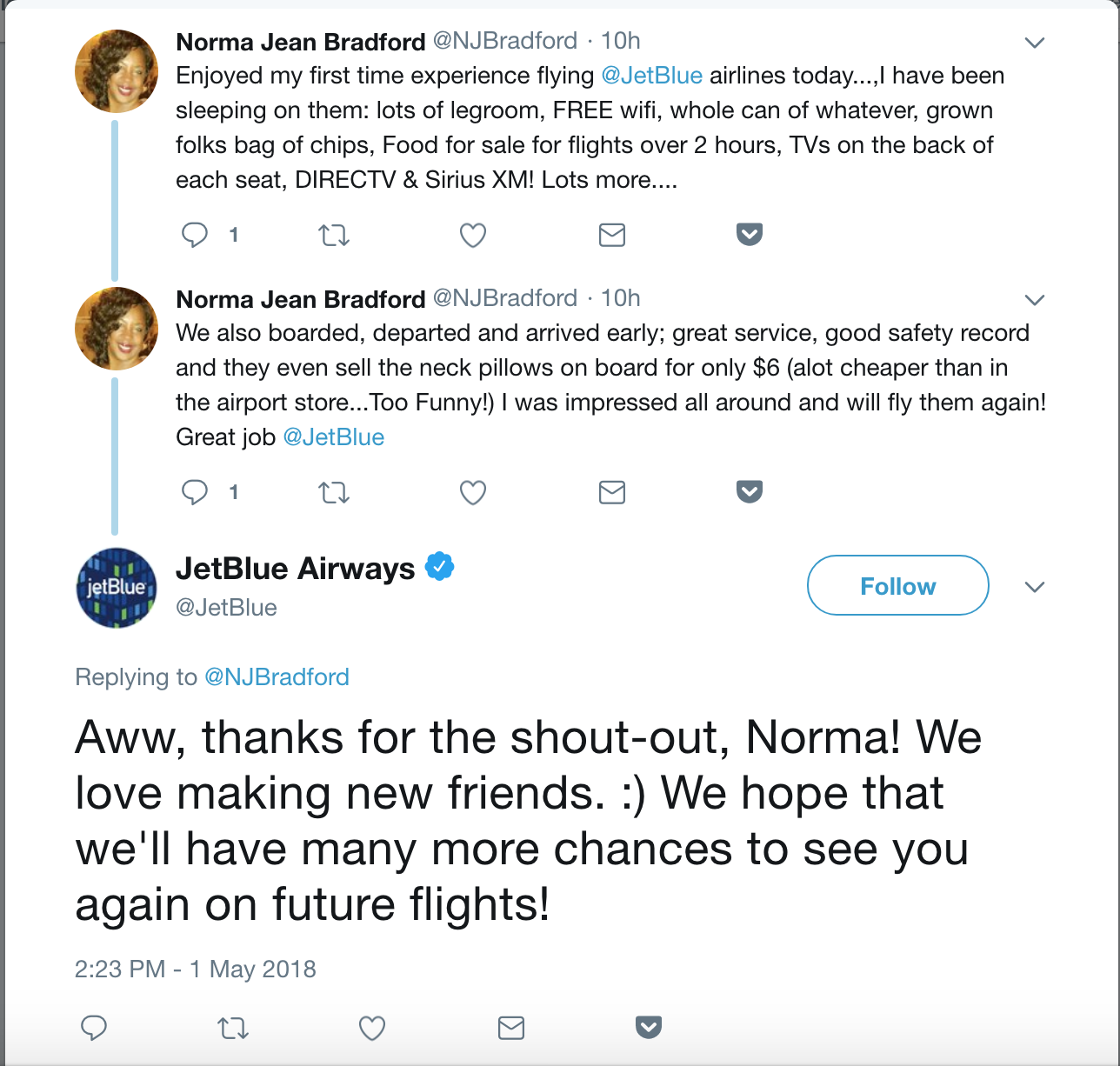 As SEO expands into brand management, you'll notice a lot of overlap between teams in your marketing department.
SEO is no longer just about building backlinks and writing keyword-rich landing page copy.
Instead, off-page SEO is becoming just as important as on-page SEO.
To be successful, you'll need to collaborate with rep managers, content marketers, social media marketers, and even your customer service team to execute a strong, cohesive campaign.
4. Optimize your content for voice search
Images aren't the only places you can squeeze out more SEO value.
With the advancement of Siri, Google Assistant, and other smart AI systems, voice search has become increasingly common among mobile users.
In fact, as many as 40% of online adults use voice search at least once per day.
Some estimates are putting voice search at over one billion queries a month, and more than 50 million voice-activated devices were in circulation as of January 2018.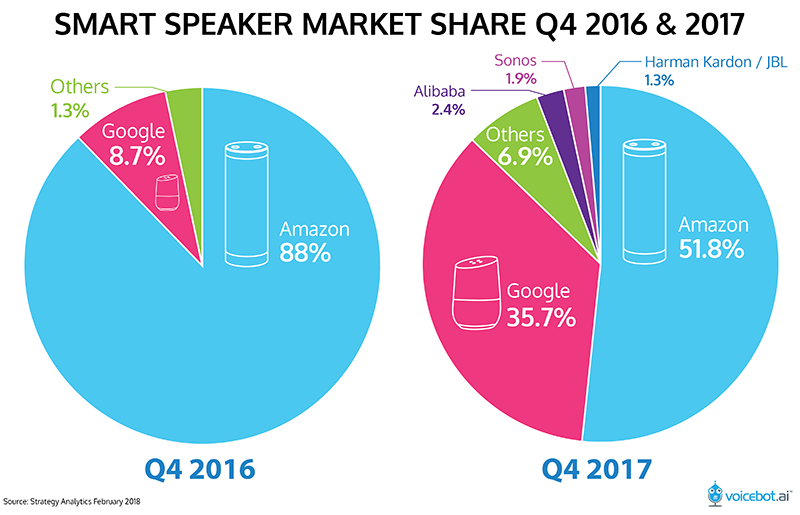 And voice search is just starting to take off. At least 20% of mobile searches are now voice searches.
This shift in the way users use and interact with search engines will inevitably affect SEO tactics.
Fortunately, for now, most of the strategies for regular SEO also apply to voice search optimization — but not all.
If you want to stay ahead of the curve, including voice search optimization is a must.
How do search engines rank voice search results?
The first place to look to answer this question is Google. To understand how and where to optimize, you have to understand what Google is ranking.
Typically, Google voice search results tend to favor concise answers.
You can see in Google's voice search rater guidelines that the emphasis is placed on how well the content meets the user's need and whether or not it does so clearly and concisely.
These two goals are defined as "Needs Met" and "Speech Quality."
Voice search rater guidelines: needs met
You can see above that the highest rated responses are those that fully (but concisely) answer the query.
In fact, Backlinko conducted a study of 10,000 voice search results and found that the average voice search answer is only 29 words.
Voice search rater guidelines: speech quality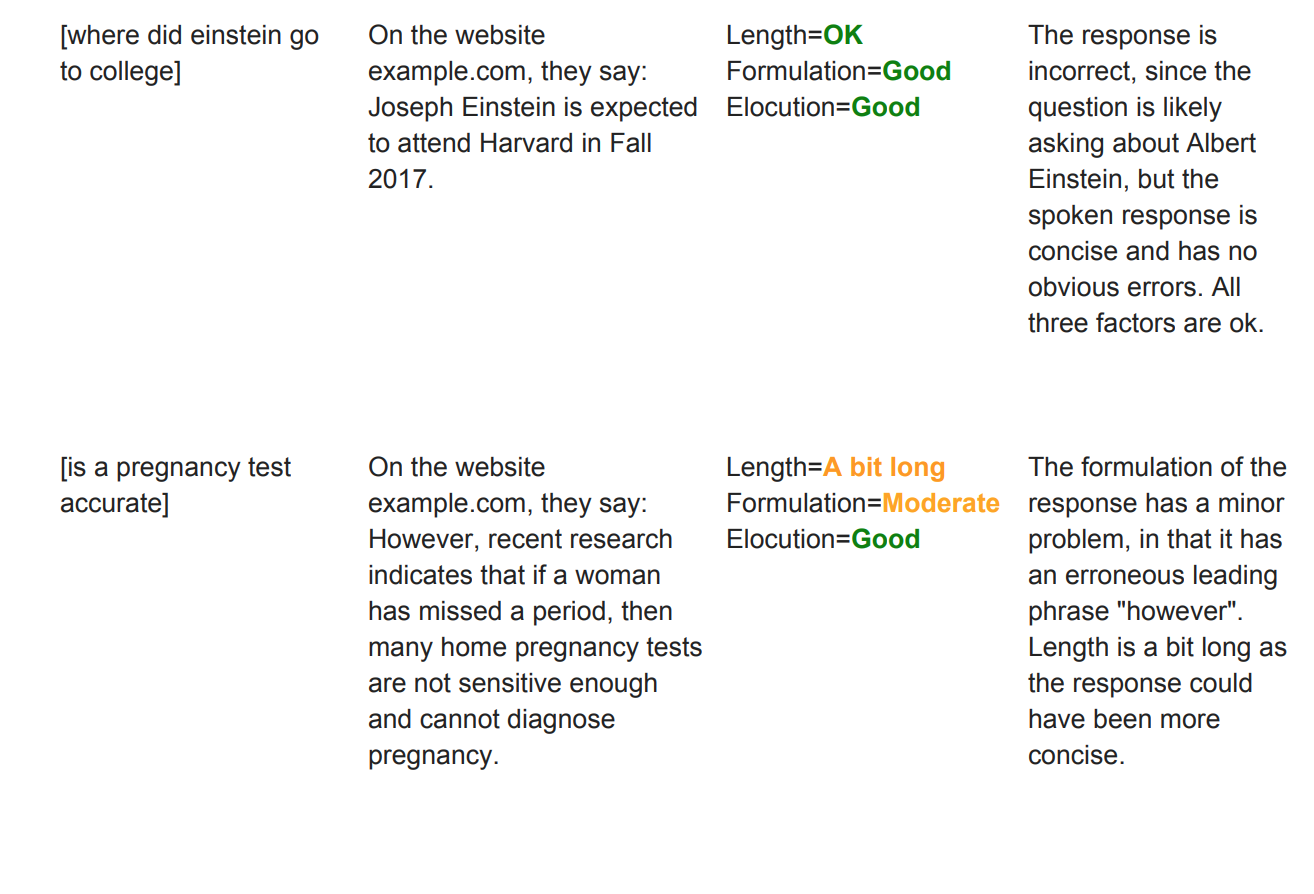 Not only is Google looking for brief answers, but it also prefers easy-to-read content.
This means simple sentence structure and vocabulary. The average Google voice search result is written at a 9th-grade level.
So save the exposition for your great American novel.
How to optimize for voice search ranking factors
Based on the information above, you have to focus on content that is direct and clear.
An FAQ section is the most natural place to build out relevant answers to voice searches because FAQs contain direct questions with brief answers.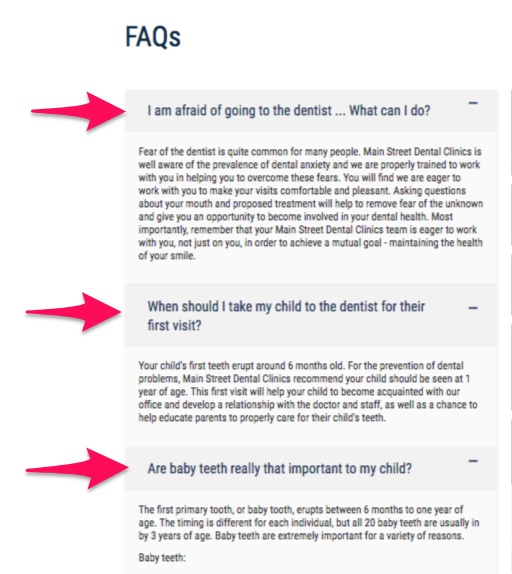 But you can also add questions to your landing pages to direct more voice searches to your site.
Sherry Bonelli, BrightLocal's local search evangelist, says to "focus on those long-tail+ conversational keywords," for FAQ pages.
The goal is to group common questions together on one page for natural-sounding questions and answers.
Like Hotel Nikko does with their FAQ page. They saw a 63% increase in CTR after optimizing their FAQ pages.
Another option would be to create long-form blog posts that answer a specific long-tail conversational keyword question.
The average word count for a results page is 2,312 words.
This doesn't mean that the content length itself is a ranking factor for voice search. However, with long-form content comes greater opportunities to include relevant search terms.
This is likely why there is a high correlation between longer content and voice search results.
Capitalize on this trend by building out rich long-form content surrounding a central keyword topic.
MakeSpace jumped 65 positions in one day by creating long-form content.
And, MrGarageDoor.com went from zero to over 2,400 visits per month from creating long-form blog content.
The goal is to provide answers to questions your users are asking.
If you have a page full of content that doesn't address what your users actually want to know, then it isn't doing you any good.
Conclusion
SEO has a basic premise: build links and authority to rank in SERPs.
But with ever-changing algorithms, competing data, and hundreds of tools, strategies, and approaches, it's easy to see how an SEO can get lost in the to-do lists.
I'm getting a headache just thinking about it.
Since SEO has a significant impact on business revenue, digital marketers can't afford to overlook any strategies that provide added SEO value.
Optimize your image sizes to boost page speeds. Resize them as needed.
Add descriptive image file names to your images so that Google ranks them for keywords, too.
Use linkless mentions to build your ranking value.
Finally, be sure to optimize your site for voice search.
Though some of these hacks may seem deceptively simple, their combined value can have a profound effect on your overall rankings.
Be smart. Don't let these SEO hacks pass you by.
What SEO strategies have you used to improve rankings?
The post 4 SEO Ideas You Overlooked That Will Skyrocket Your Rankings appeared first on Neil Patel.
Read more: neilpatel.com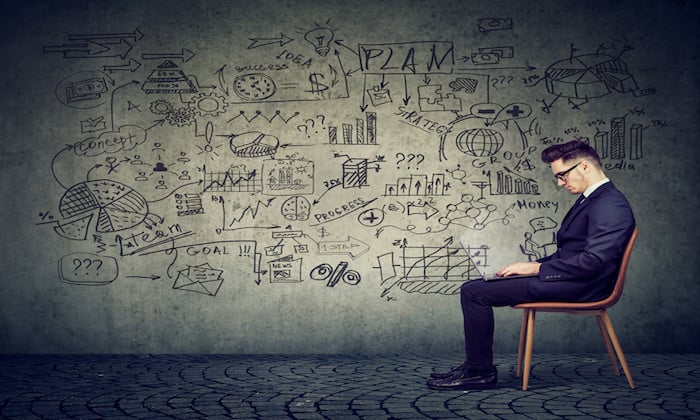 Google Analytics is a staple in every experienced digital marketer's set of tools.
That's primarily because it provides a wealth of data, covering virtually everything you might want to know about how visitors interact with your site.
But it's only useful to your business if you can use that data to draw actionable conclusions about your audience.
One of the best ways to do that is by using the Cohort Analysis report in Google Analytics.
The Cohort Analysis report tells you how well your website is performing. And, it gives you in-depth insights into user behavior on your site.
If you're unfamiliar with this report, you're not alone.
Cohort Analysis is an underrated report but one that analyzes trends and patterns in user behavior to help you understand who is converting and who is not.
What is a cohort analysis?
To understand what a cohort analysis is, it's necessary to define a "cohort" first.
This term refers to a subset of people grouped together because of a shared value.
Google defines it as a group of users who share a common characteristic, identified by an Analytics dimension.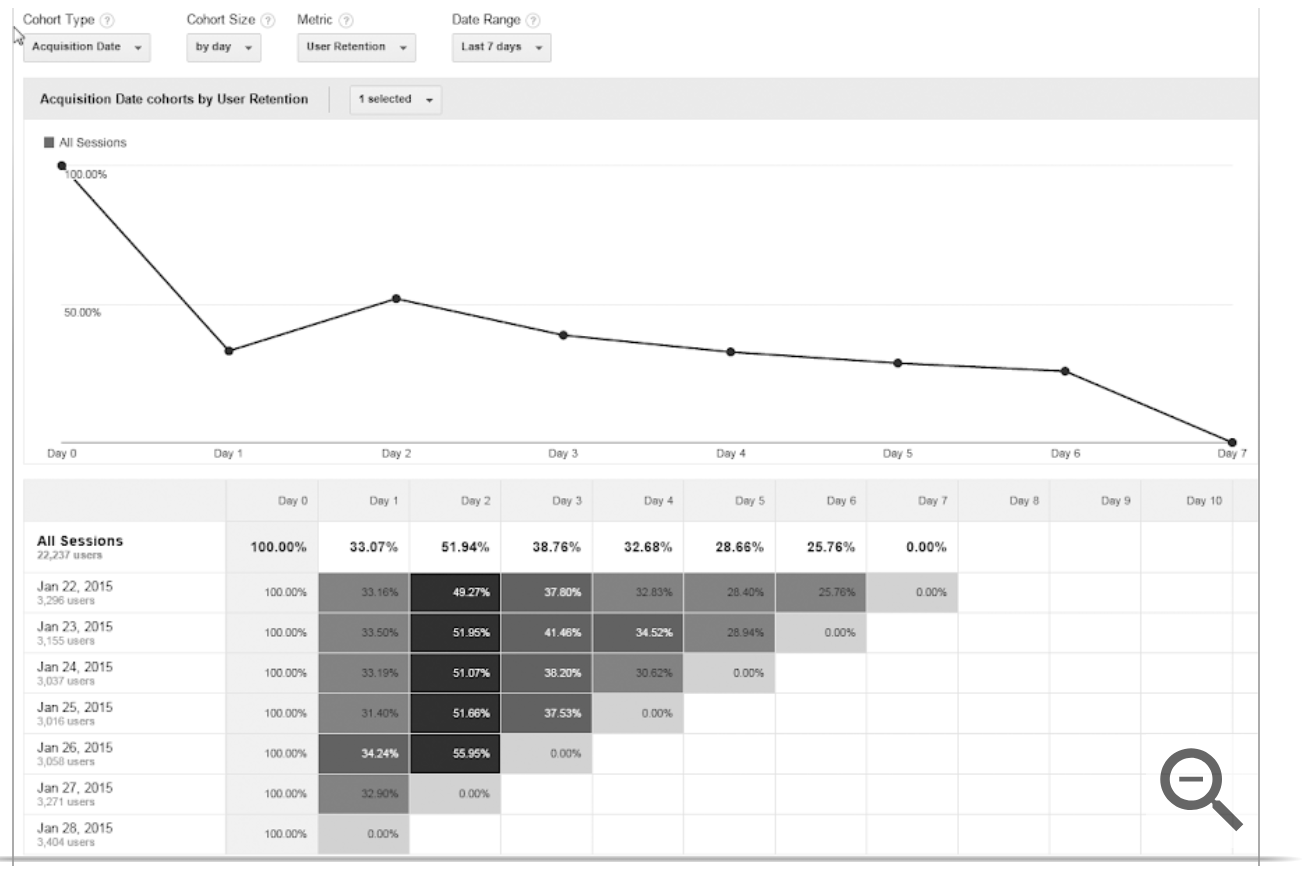 A cohort analysis, then, is the process of analyzing the behavior of groups of users.
You can compare groups to one another and look for differences and trends.
If you identify any patterns, it can help you determine which changes and behavioral differences led to different results.
To be clear, this process is not unique to digital marketing. You can run a cohort analysis to compare many different types of groups.
In fact, the term originates from medical studies, in which researchers compare groups of people like smokers and non-smokers to identify differences between the two.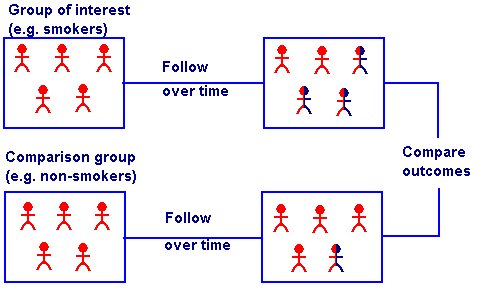 When it comes to your site, however, the cohort possibilities are limited to the data you can collect from your visitors while they browse.
For example, cohorts in Google Analytics are grouped based on Acquisition Date, or the users' first visit to your site.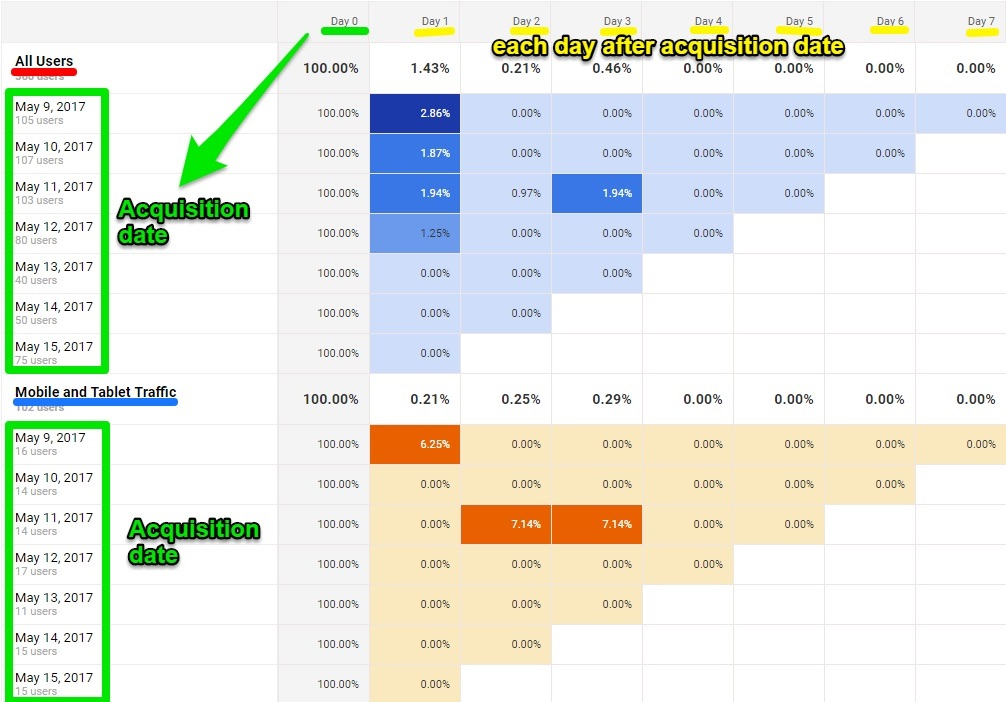 And this cohort type can be extremely helpful in giving context to data.
Analyzing specific segments, instead of your audience as a whole, will give you a clearer idea of what makes a great customer for your business.
A cohort analysis also goes beyond basic data points to suggest the reasons for changes in your site visitors' behavior.
As a result, comparing cohorts can help you learn more about what influences specific behaviors and the impact your marketing campaigns and strategies have.
For example, when the children's online clothing store Spearmint LOVE wanted to identify trends on their site, they created several cohort analysis reports based on first purchase date.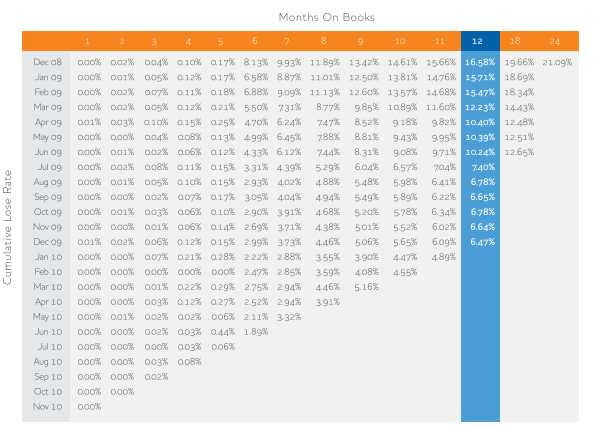 Using this analysis, they were able to determine how long the average visitor would continue to return to their site, as well as the average time between purchases.
They also used this insight to break their cohorts into "custom windows" based on the different purchasing behaviors of moms during pregnancy and the first few years of their children's lives.
This way, they could more accurately predict what the cohorts' next purchase might be, then base their ad campaign content and timing on those predictions.
And while this was only one of several strategies Spearmint LOVE used to improve their marketing, the end result was 991% YoY growth from 2015 to 2016.
How to run a cohort analysis in Google Analytics
Running a cohort analysis in Google Analytics is a fairly simple process.
Under the Audience Tab, select Cohort Analysis.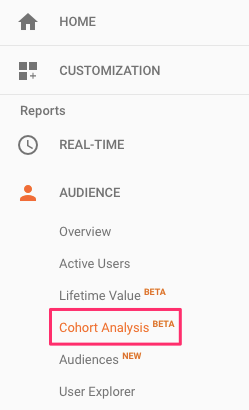 By default, the main dashboard for this report will show a graph with your site's Acquisition Date cohorts by User Retention.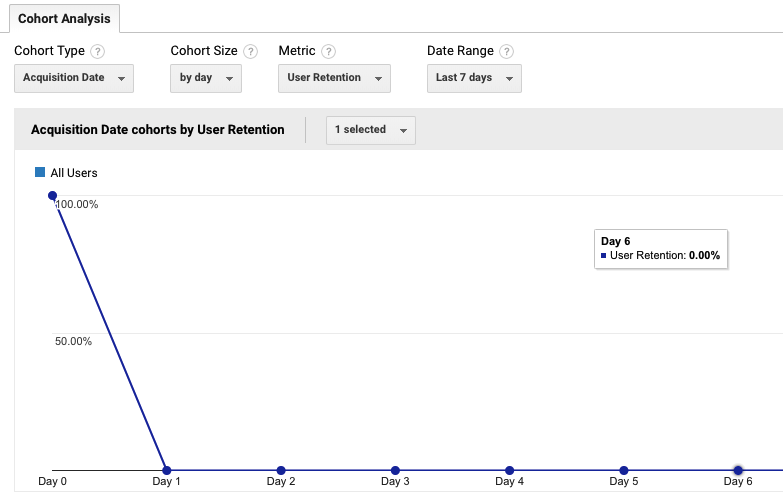 In this case, Day 0 represents each user's first visit to your site, and the subsequent days show whether they returned.
If you notice a decline in this chart, don't be alarmed.
Cohorts inevitably drop over time as users stop returning to your site.
Maintaining a steady flow of return visitors is challenging for even the most experienced marketers — so don't be surprised if this number gradually declines for most of your cohorts.
Below this chart, the report will also display a table showing your site's user retention, divided into groups based on the date of users' first visits.

In this case, each row represents a different cohort of users by Acquisition Date.
If you notice that any rows show significantly different retention rates from the rest, this can be a great starting point for analysis.
This is especially true if you run any major marketing campaigns.
For example, a high-performing cohort can indicate that the campaign you ran that day was particularly effective at attracting engaged traffic.
Then, at the top of this dashboard, you can adjust the data included in your report.

Right now, the only Cohort Type available is Acquisition Date or the date of a user's first visit to your site.
But you can adjust the Cohort Size to reflect groups of users by day, week, or month.
This is especially helpful if you launch and run new campaigns on a timeline that meets one of these durations.
Next, you can choose from a few different metrics by which to analyze your cohort.
The default metric is user retention, which shows the percentage of a cohort that returns on subsequent days following their original visit.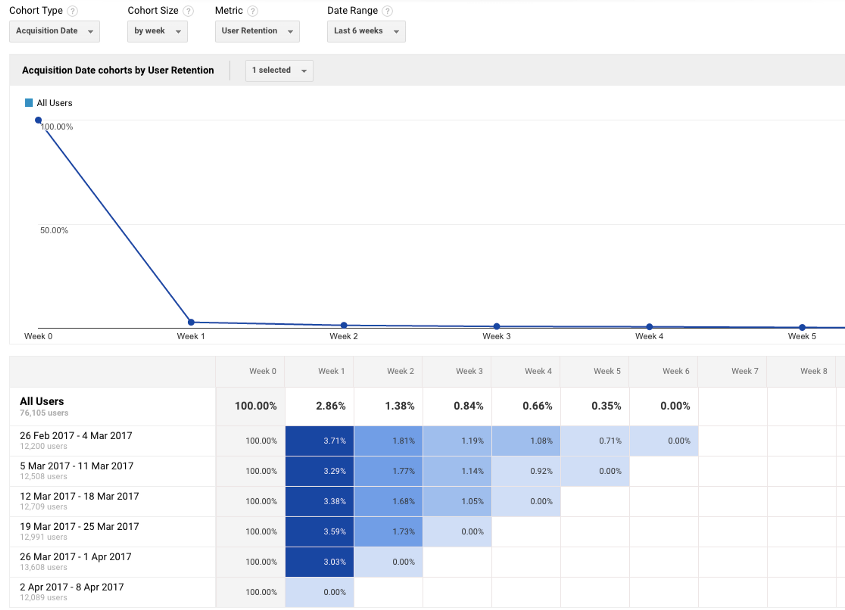 If one of your primary goals is increasing your overall traffic and maintaining a steady flow of return visitors, this report can be extremely helpful.
But for most site owners, the next two sets provide more valuable insights as they relate to the actions a user takes beyond simply visiting your site.
The "Per User" set of metrics will show the average number of actions each member of a cohort took on your site, including:
Goal Completions per user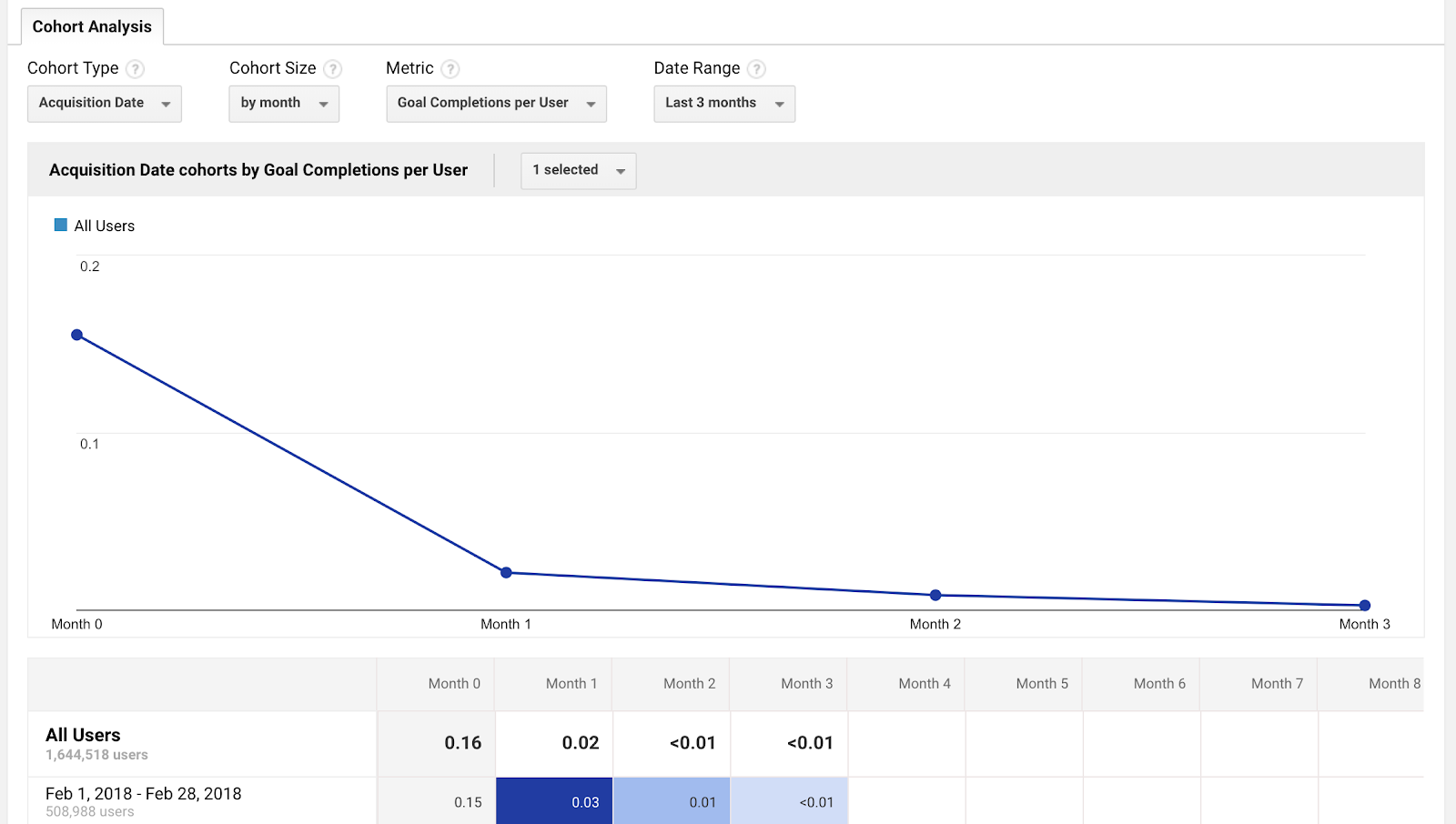 Pageviews per user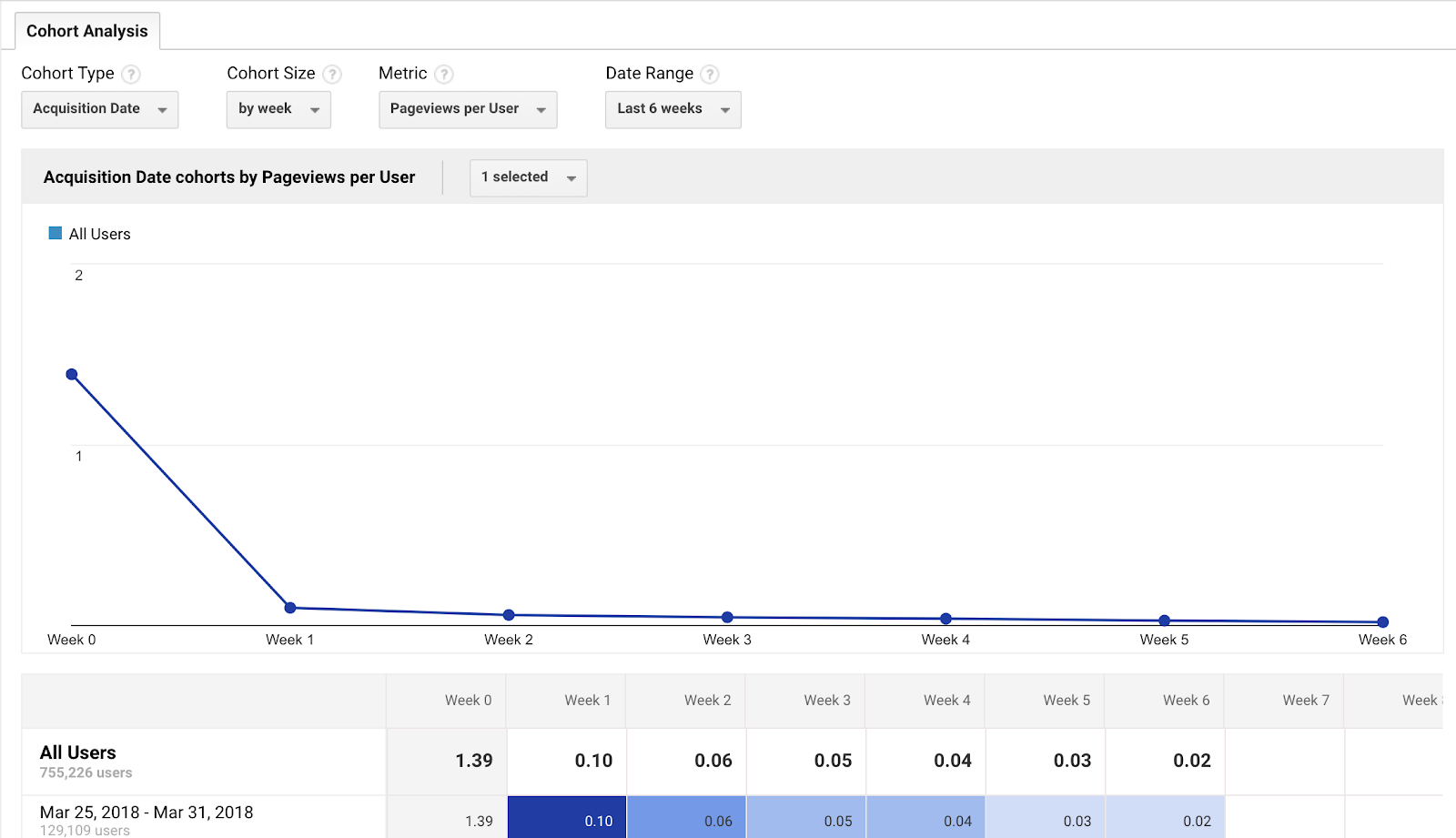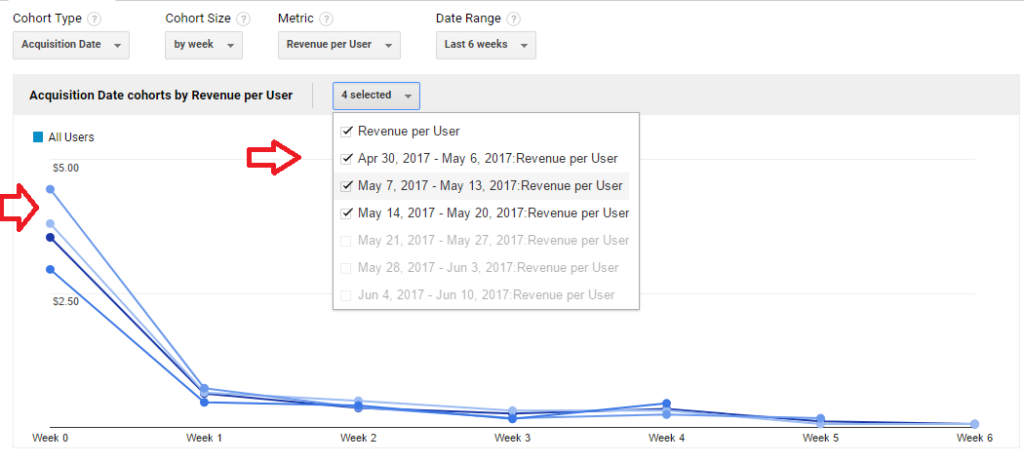 Session Duration per user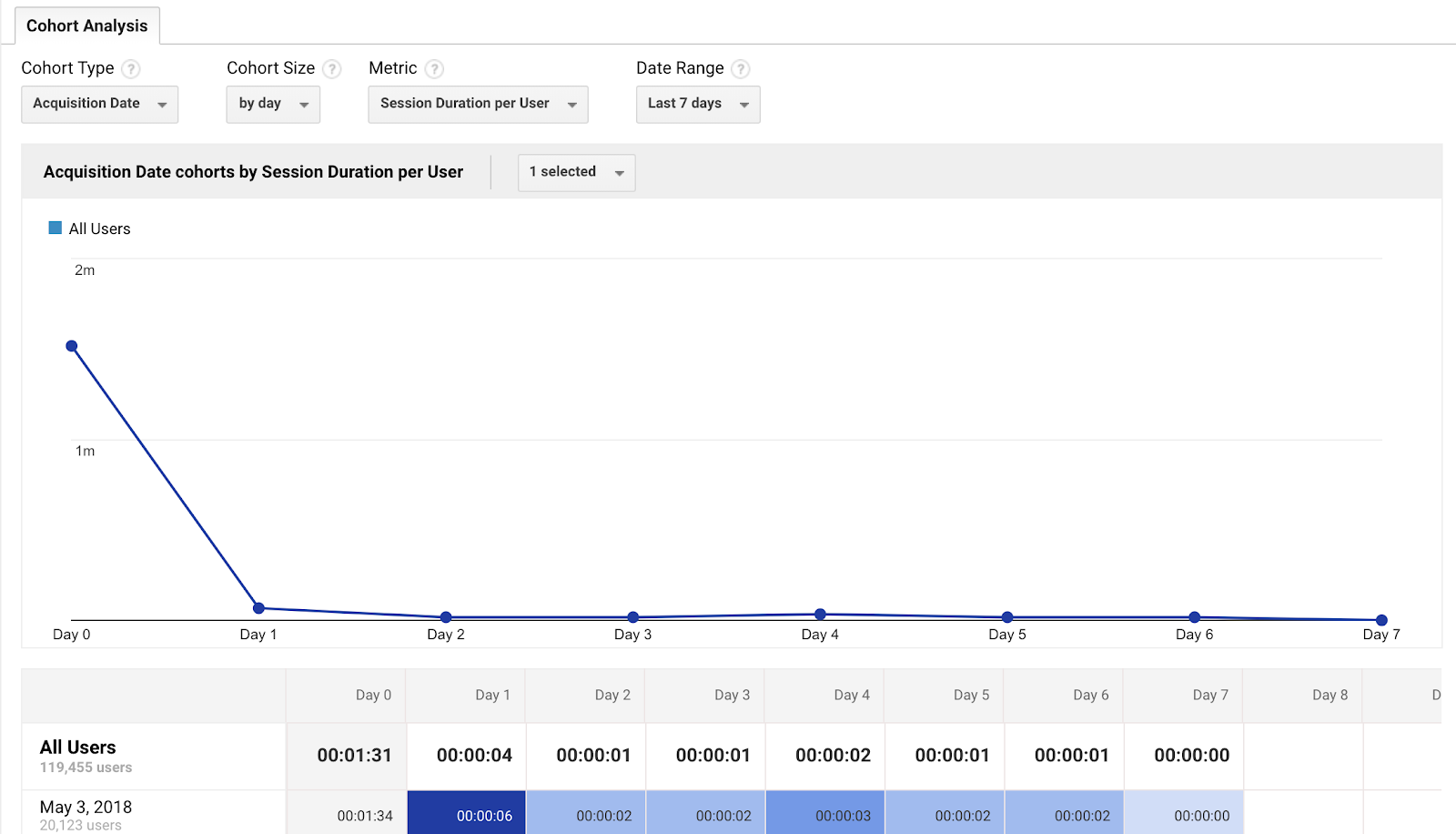 Sessions per user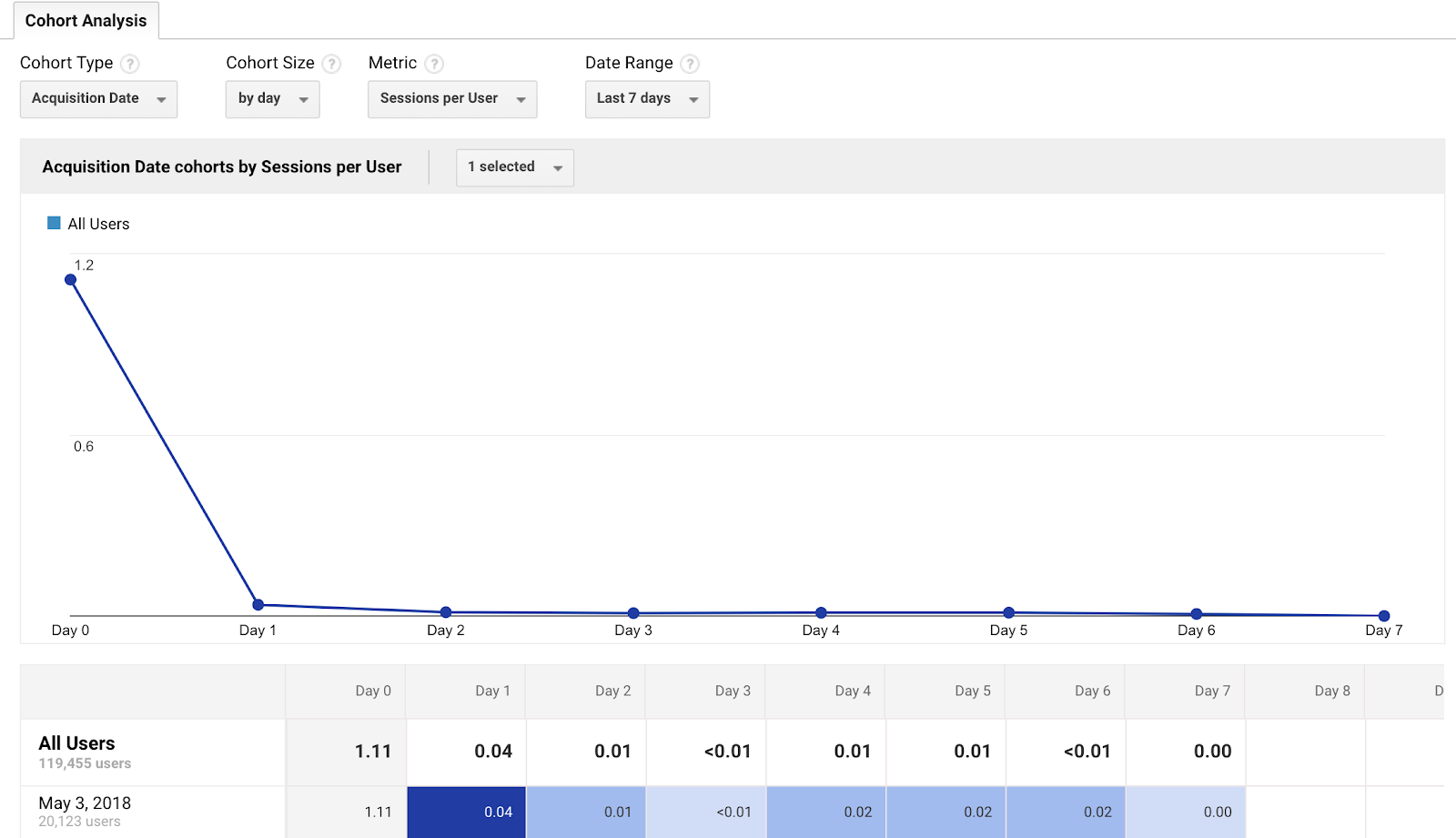 Transactions per user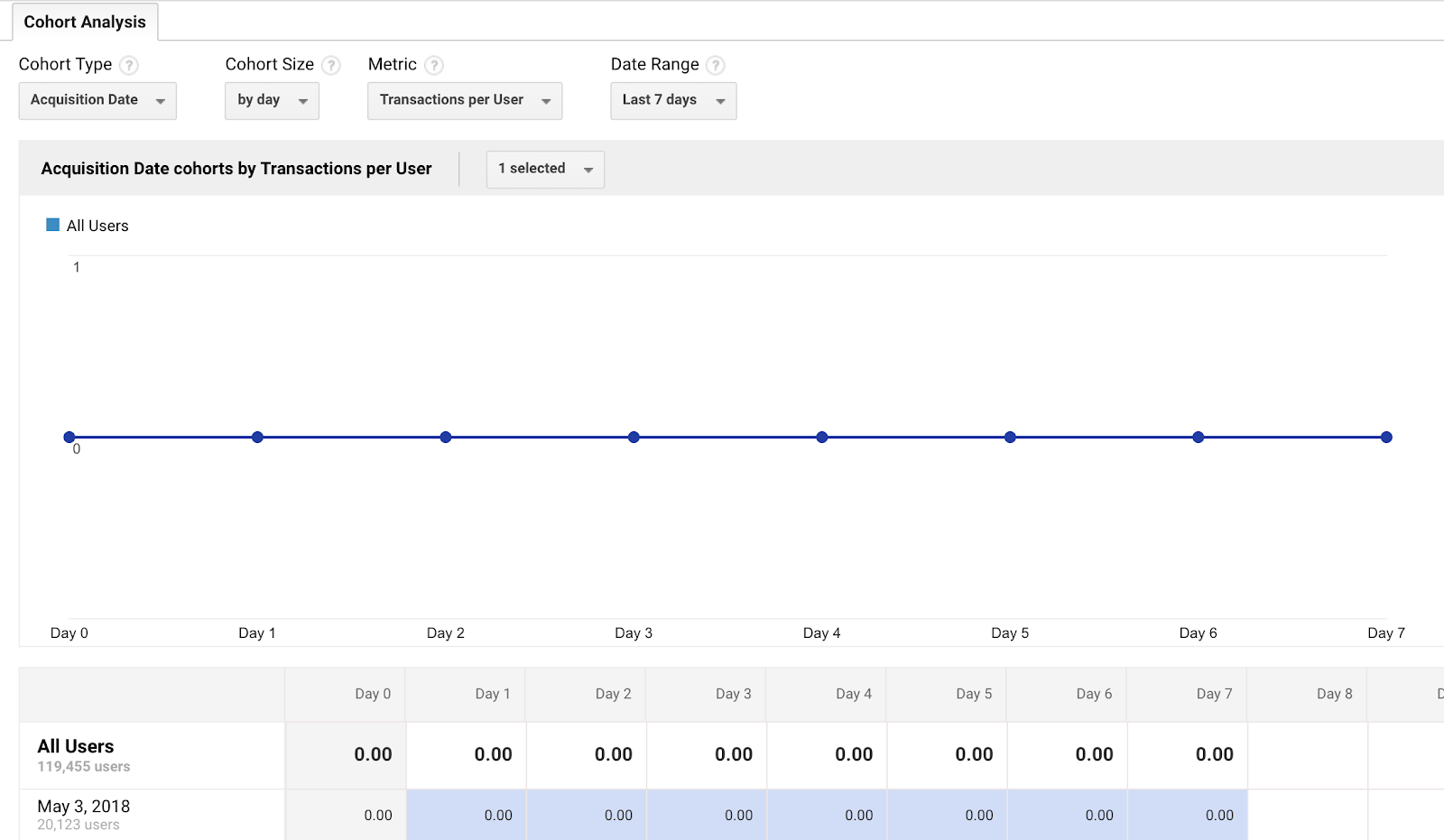 So instead of analyzing your cohorts based on whether they consistently return to your site, you can focus on the actions that have an impact on your most important goals.
The next set of metrics is similar, but instead of showing an average per user, it will show the total for the metric of your choice, including:

Pageviews
Revenue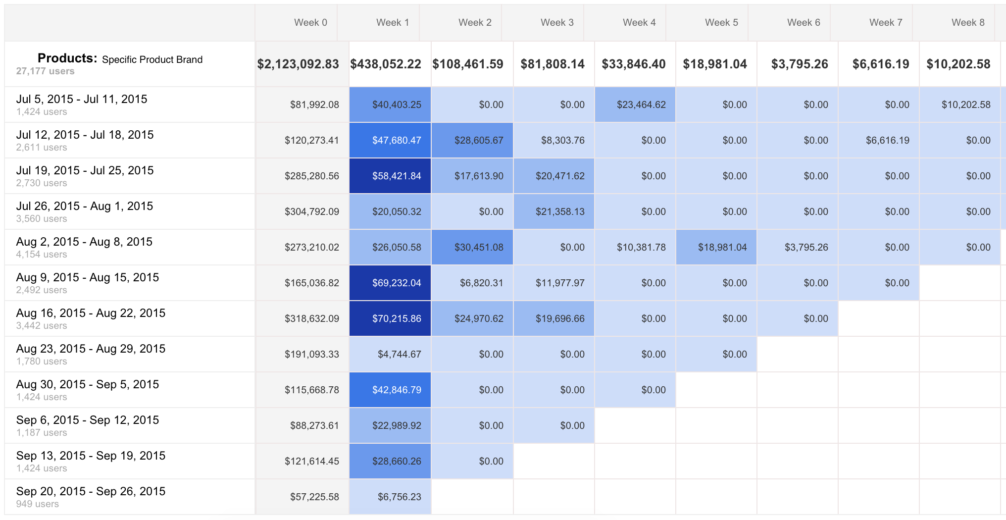 Session Duration
Sessions
Transactions
Users
Finally, you can adjust the date range of your report to include data from the previous week, two weeks, three weeks, or month.
The range you choose depends on the scope of data you want to analyze, as well as the size of your cohort.
After all, one week may provide plenty of data if your cohorts are broken down by day, but you'll need to select a larger date range for any larger cohorts.
So, that's the basic process of accessing data for a particular cohort on your site.
But how is this information valuable?
1. Use additional segments to learn more about your audience
The fact that the current setup only allows you to create cohorts based on Acquisition Date may seem like a limitation.
Fortunately, you can use additional segments to segment your data further. In fact, Analytics currently allows for up to four segments in the cohort analysis report.
As you add new segments, each one will appear in a new table below the "All Sessions" table.
For example, you can dig deeper into your cohort analysis by segmenting mobile traffic vs. all traffic.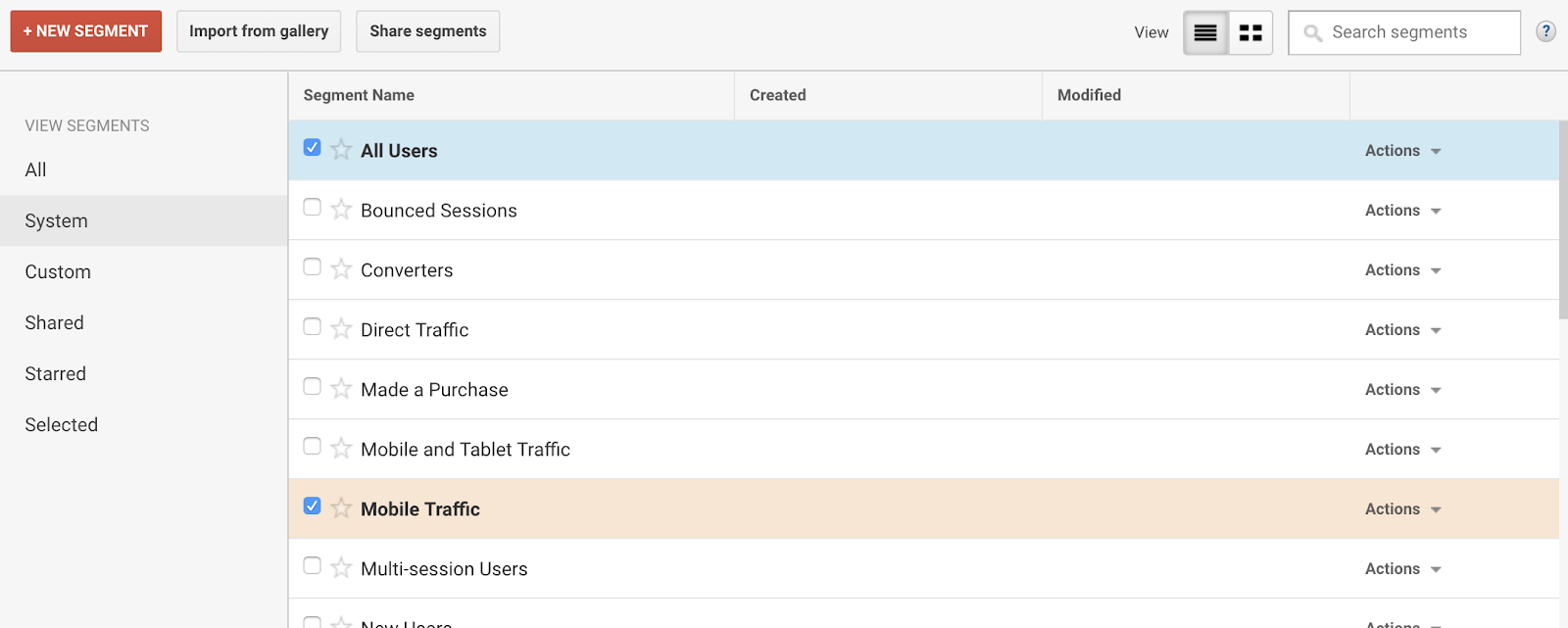 And, you'll receive a comparison chart like this.
And, if you scroll down to the columns, you can see the data for the individual cohorts.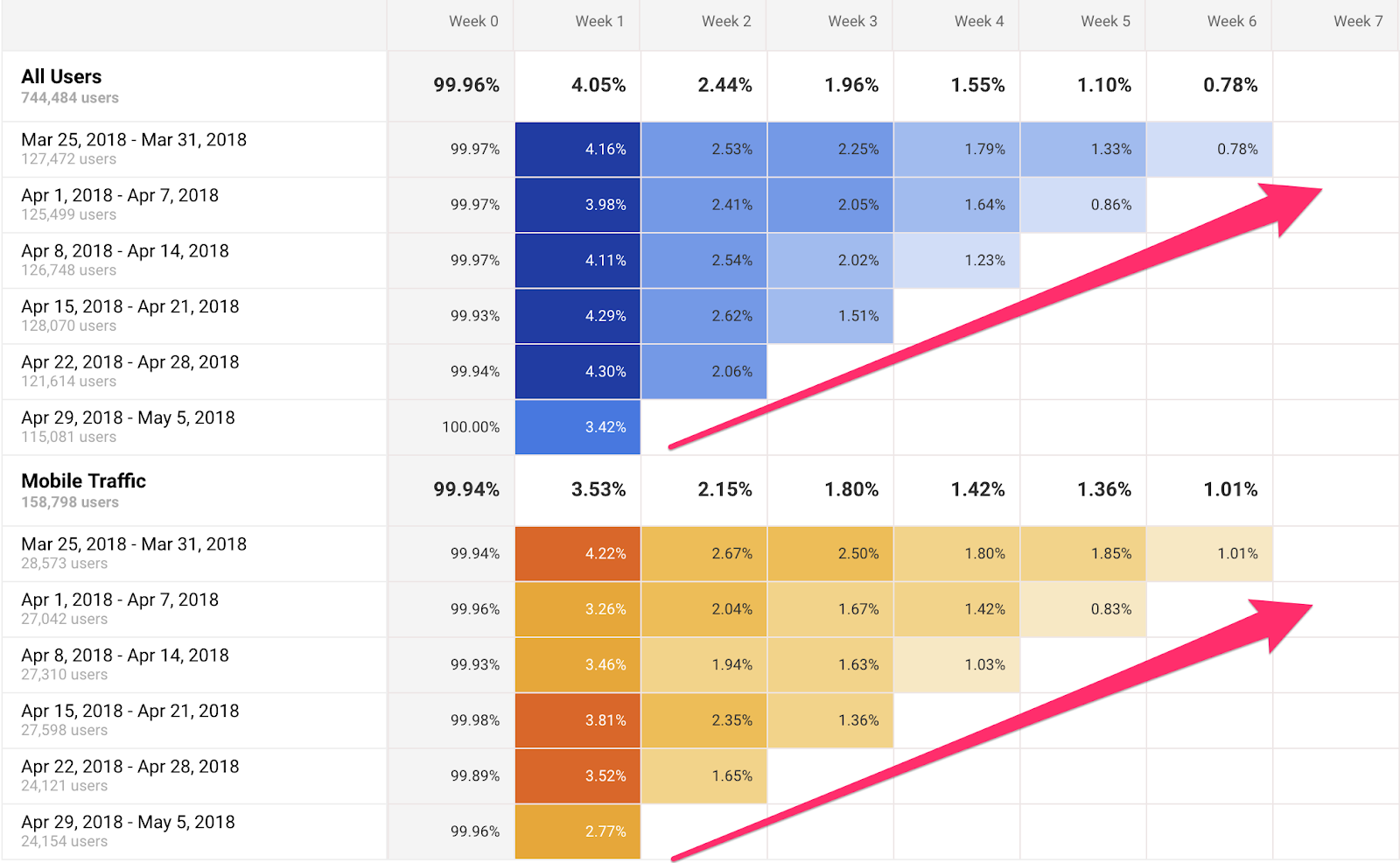 This report shows that 3.98% of the 125,499 desktop users who signed up the week of April 1 – April 7 came back on Week 1, 2.41% came back on Week 2, 2.05% on Week 3.
And, when you compare that to mobile, you'll see that desktop is still retaining users better than mobile.
But beyond the pre-set options, you can also apply any custom segments you've created in Analytics.
This means you can use the cohort analysis report to access data on sets of users you've already identified as valuable for your site.
For example, below you can see a comparison between a site's visitors who signed up for a free trial and those who downloaded a whitepaper.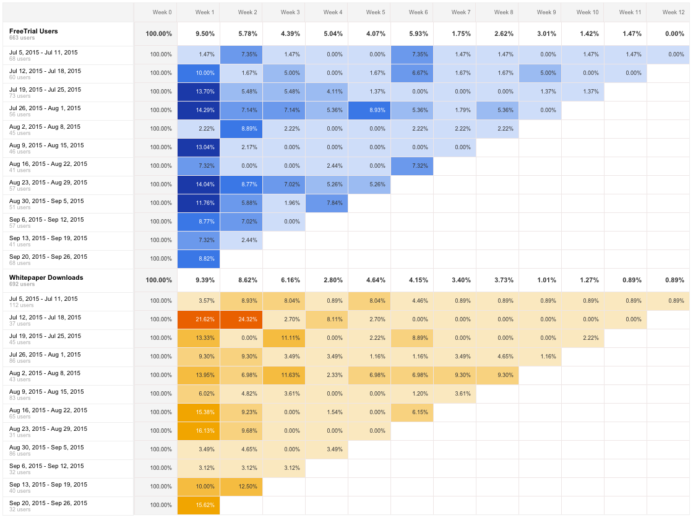 Regardless of the segments you use, you'll want to keep an eye out for any that perform significantly differently from the "All Sessions" report.
This will help you identify groups of users that differ from the average user's behavior, either in positive or negative ways.
If a group performs better, by returning to your site at higher rates for instance, then you'll want to dig into the potential causes for that difference.
Then, you can use this insight to replicate that behavior across other segments of your traffic.
2. Gauge responses to short-term marketing efforts
The cohort analysis report can also be helpful for analyzing how your audience responds to short-term marketing efforts, like email campaigns.
With each email you send, you reach a slightly different set of users — and monitoring the behavior of the users you reach as a result can be a great way to gauge your success.
As long as you use UTM tracking for your campaigns, you can do this by creating a new segment within the cohort analysis report, and selecting "Traffic Sources" from the left column.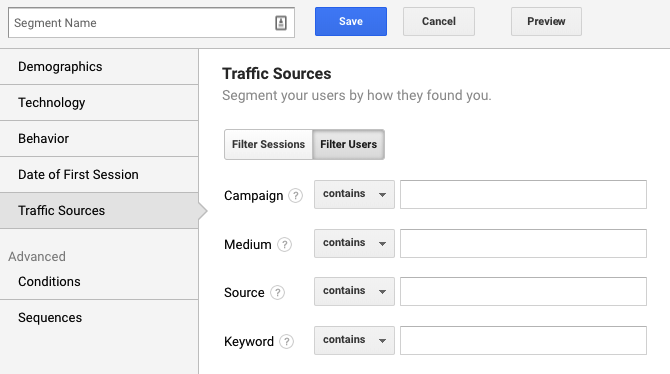 Enter your campaign's parameters, then compare this segment to your site's overall traffic.
So, for example, if you run an email campaign for three days offering a 25% discount, you can track the behavior of users who used the discount during this period.
If the users you reached with your campaign performed better for your target metric, this is a solid indicator that it was effective in reaching the kind of traffic and customers you want.
3. Learn about e-commerce shopping habits
One of the best features of the Cohort Analysis report is the inclusion of e-commerce-specific data, including revenue per user, transactions per user, total revenue.
Looking at transactions per user by acquisition date can show the average amount of time it takes for a user to make a purchase.
In the following report, for example, purchases spiked five days after the acquisition date.

Of course, it's important to consider factors that could've caused this spike, like a promotion or remarketing campaign.
But this data can give you a stronger understanding of your audience's purchasing behavior and the average time it takes them to make a decision.
You can also take things a step further by cross-referencing this data with the Lifetime Value (LTV) report.
For example, let's say you notice in a cohort analysis that over the span of a 12-week campaign, you saw significant drop-offs in user retention in weeks five and 11.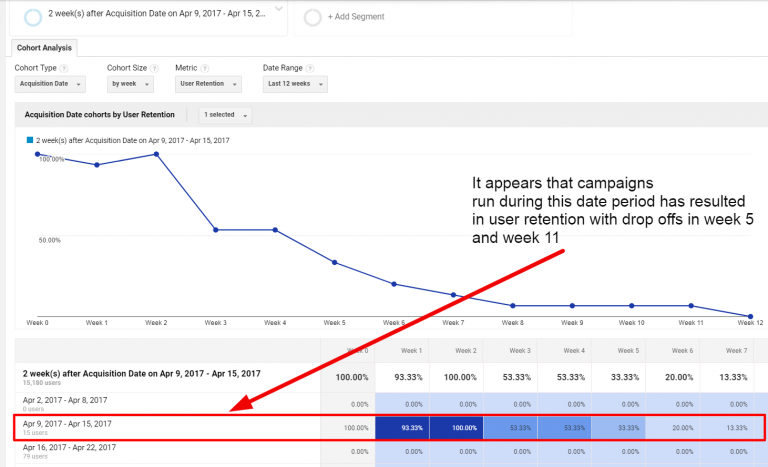 You can hop over to the LTV report for the same time frame, then determine if there are any channels or campaigns seeing the same low-performing weeks.
To access this data, select LifeTime Value from the Audience menu.
Then, you'll need to decide which metric you want to use to determine the value of your users. For e-commerce sites, this will likely be revenue per user.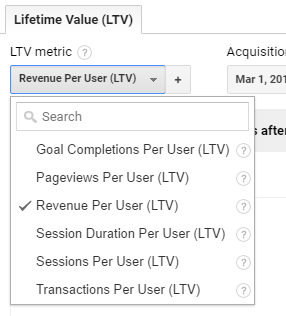 Then, you can sort your data by acquisition channel, source, medium, or campaign.

This can give you an idea of which channels you need to improve to eliminate drop-offs in site performance and increase your user retention and revenue.
4. Use annotations to monitor impact
As you analyze your cohort reports, it's essential to keep in mind any factors that could be impacting the data you see.
Fortunately, you can make annotations to keep track of these factors and easily see the dates of specific events, campaigns, and site changes.
For example, the following chart shows three significant events for a company's marketing efforts.

In this case, it shows the date on which the agency had an article published on a third-party platform.
A few days later, they saw a significant jump in traffic.
And while this could be confusing while looking at the cohort analysis report alone, the annotation ensures that users looking at this data don't forget to consider that significant factor and analyze the data accordingly.
5. Save reports for your most important cohorts
If you plan to use the Cohort Analysis feature frequently, saving your reports is an excellent way to save time.
It also ensures that you're consistently looking at the same data sets so that you don't draw any inaccurate conclusions simply because a setting in your report is slightly different.
You can save a report by clicking the "Save" button at the top of your dashboard and creating a name.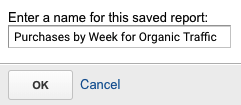 This will keep all customizations intact, including advanced segments, secondary dimensions, and sorting — so that the next time you want to use the cohort analysis feature, you won't need to waste any time recreating your data set.
Conclusion
Drawing actionable conclusions from Google Analytics data can be challenging, even for experienced marketers.
The amount of data the platform provides is extremely valuable — but the sheer volume can make it difficult to sort through the noise and find the metrics you can use to improve your site's performance.
So if you're looking for a way to segment your data into more manageable chunks, the cohort analysis feature is a great way to focus in on specific subsets of your audience.
You can use it to learn more about segments you've already created and see how their behavior differs from other segments, as well as your site's traffic as a whole.
It's also useful for gauging responses to specific campaigns, learning more about e-commerce shoppers' behavior, and monitoring the impact of any other significant events related to your business.
And considering how underutilized this report is, you can consider it your secret weapon for analyzing your site's performance and gaining the kind of insight that your competitors might be missing out on.
How do you use the Cohort Analysis report for your site?
The post How to Run a Cohort Analysis in Google Analytics to Better Segment Your Traffic appeared first on Neil Patel.
Read more: neilpatel.com